Faith Movements and Social Transformation
Guru Charisma in Contemporary India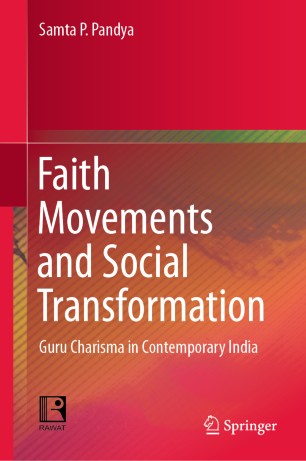 Table of contents
About this book
Introduction
This book examines the role of Hindu-inspired faith movements (HIFMs) in contemporary India as actors in social transformation. It further situates these movements in the context of the global political economy where such movements cross national boundaries to locate believers among the Hindu diaspora and others.
In contemporary neoliberal India, HIFMs have become important actors, and they realize themselves by making public assertions through service. The four pillars of the contemporary presence of such movements are: gurus, sociality, hegemony and social transformation.
Gurus
, who spearhead these movements, create a matrix of possible meanings in their public discourses which their followers pick up to create messages of personal and social change.
Sociality
is a core strategy of proliferation across such movements and implies social service, which is qualified by memories of the guru and what they are believed to embody.
Hegemony
is reflected in the fact that social service in such movements often ominously imbibes right-wing or far-right Hinduism. They propose a model of Hindu-inspired
social transformation
, involving faith building into and transforming the civil society. The book discusses in a nuanced way several Hindu-inspired faith movements of various hues which have made national and international impact.
This topical book is of interest to students and researchers in the fields of sociology, anthropology, social work, and social psychology, with a special interest in the study of religious movements.
Keywords
faith-based movements
Hindu Sabha
Vishwa Hindu Parishad
social service in nation building
reformist orthodox Hindu organizations
the Hare Krishna movement
Ramakrishna Mission
Brahmakumari movement
Chinmaya Mission
Mata Amritanandamayi Mission
preaching of self-improvement
Yoga and Hindu social movements
Hindu movements and the global political economy
Hindu diaspora and religious movements
Bibliographic information
DOI

https://doi.org/10.1007/978-981-13-2823-7

Copyright Information

The Author(s) 2019

Publisher Name

Springer, Singapore

eBook Packages

Social Sciences

Print ISBN

978-981-13-2822-0

Online ISBN

978-981-13-2823-7