Zebrafish, Medaka, and Other Small Fishes
New Model Animals in Biology, Medicine, and Beyond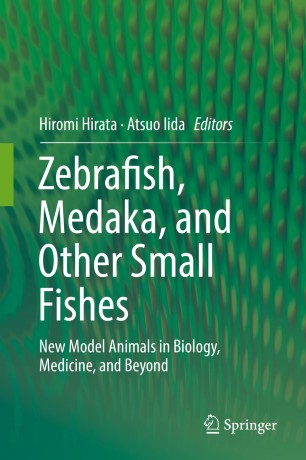 Table of contents
About this book
Introduction
This book provides cutting-edge studies and technologies using small fishes, including zebrafish, medaka, and other fishes as new model animals for molecular biology, developmental biology, and medicine. It also introduces eccentric fish models that are pioneering new frontiers of biology.
Zebrafish and medaka have been developed as lower vertebrate model organisms because these small fish are easy to raise in the laboratory and are useful for the live imaging of the morphology and activity of cells and tissues in intact animals. By virtue of those specific advantages, fish studies have demonstrated the common features of vertebrates and raised further questions toward understanding the mystery of life.
The book consists of four parts: "Development and Cell Biology", "Homeostasis and Reproduction", "Clinical Models", and "Eccentric Fish". Together they describes the core area of small fish study – often considered mere zoology but which is actually proving to be the universal basis of life.
Written by leading scientists, the book helps readers to understand small fishes, inspires scientists to utilize small fishes in their studies, and encourages anyone who wants to participate in the large and fantastic world of small fish.
Keywords
Fish model
Model organism
Model animal
Disease model
Teleost fish
Non-model organism
Biotechnology
Eccentric fish
Developmental biology
Vessel formation
Reproduction
Homeostasis
Clinical model
Blind fish
Catfish
Viviparous teleost
Bibliographic information