Marine Algal Bloom: Characteristics, Causes and Climate Change Impacts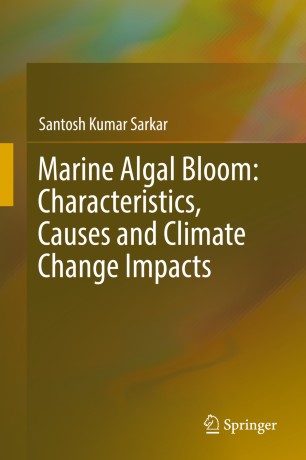 Table of contents
About this book
Introduction
In the marine environment, single-celled, microscopic, plant-like organisms naturally occur in the well-lit surface layer of any body of water. These organisms, referred to as phytoplankton or microalgae, form the base of the food web upon which nearly all other marine organisms depend. Algal bloom is a rapid increase in or accumulation of the population of about 300 species of algae due to excess nutrients (eutrophication), and is of major global interest as it causes reduction in species diversity, abrupt changes in water quality, and discoloration of the water (green, yellow, brown or red) depending on the species of algae and the type of pigments they contain. Dying blooms can also be an environmental concern as when the cells sink and decay, bacteria break down the organic material, which in turn strips oxygen from the water. This microbial oxygen demand at times leads to very low oxygen levels in the bottom waters, harming aquatic life. Documentation of this sporadic high abundance of algae, together with the significant species richness of the diatoms, requires comprehensive studies in the Sundarban coastal environment, which is facing severe degradation due to natural & anthropogenic stressors. In addition, a better understanding of the effects of algal blooms on seafood quality, the complex biological, chemical and physical interactions and subsequent effects on trophodynamics is needed to develop strategies for effective coastal zone management.
The book discusses the occurrence of harmful algal blooms (HABs) caused by the dinoflagellates of the genus Alexandrium and Karenia, or diatoms of the genus Pseudo-nitzschia, which have large and varied impacts on marine ecosystems (such as large-scale marine mortality events that have been associated with various types of shellfish poisonings) depending on the species involved, the environment where they are found, and the mechanism by which they exert negative effects. HABs represent a major environmental problem in all regions of the U.S., and their occurrence is on the rise due to increased nutrient pollution.
HABs have severe impacts on human health, aquatic ecosystems, and the economy. Such blooms, known colloquially as red tides due to their red or brown hues, are increasing in frequency and magnitude worldwide as a result of changes in oceanic climate, increased coastal eutrophication and enhanced long-distance dispersal in ballast water. As such, the book offers an in-depth account of the complex biological, chemical and physical interactions of the algal blooms (both innocuous and harmful ones). It also discusses the highly topical issue of the impact of global climate change on the frequency and severity of HABs in the context of alterations in temperature, stratification, light and ocean acidification.
Focusing on both basic and applied limnology, this book is a reliable and up-to-date reference resource for students, teachers and researchers engaged in the field of coastal research/management at regional and global scales.
Keywords
Algal Bloom
Biodiversity
Climate change
Eutrophication
Water quality
Bibliographic information
DOI

https://doi.org/10.1007/978-981-10-8261-0

Copyright Information

Springer Nature Singapore Pte Ltd. 2018

Publisher Name

Springer, Singapore

Print ISBN

978-981-10-8260-3

Online ISBN

978-981-10-8261-0
Industry Sectors