Basic and Applied Zooplankton Biology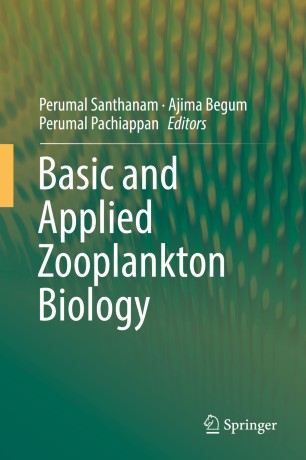 About this book
Introduction
The coastal and ocean ecosystem is a significant feature of our planet and provides a source of food for much of life on Earth. Millions of species have been, and are still being discovered in the world's oceans. Among these zooplankton serve as secondary producers and are significant as they form pelagic food links and act as indicators of water masses. They constitute the largest and most reliable source of protein for most of the ocean's fishes. As such, their absence or depletion often affects fishery. In many countries, the decline in fishery has been attributed to reduced plankton populations.
Furthermore, trillions of tiny copepods produce countless faecal pellets contributing greatly to the marine snow and therefore accelerating the flow of nutrients and minerals from the surface waters to the seabed. They are phylogenetically highly successful groups in terms of phylogenetic age, number of living species and success of adaptive radiation. A study of the basic and applied aspects of zooplankton would provide an index of the fishery potential and applications, offering insights into ocean ecology to safeguard food supplies and livelihoods of the millions of people living in coastal areas. For this reason, we need to understand all the facets of zooplankton as well as their interactions with atmosphere and other life forms, including human. In this context, this book discusses the basic and applied aspects of zooplankton, especially taxonomy, mosquitocidal activity, culture, analysis of nutritional, pigments and enzyme profile, preservation of copepods eggs, bioenrichment of zooplankton and application of zooplankton in sustainable aquaculture production, focusing on novel biofloc-copefloc technologies, and the impact of acidification and microplastics on zooplankton.

Offering a comprehensive overview of the current issues and developments in the field of environmental and commercial applications, this book is a valuable resource for researchers, aquaculturists, environmental mangers wanting to understand the importance of zooplankton and develop technologies for the sustainable production of fish and other commodities to provide food and livelihoods for mankind.
Keywords
Animal Biotechnology
Aquaculture
Environmental Biotechnology
Planktology
Plant Biotechnology
Bibliographic information
DOI

https://doi.org/10.1007/978-981-10-7953-5

Copyright Information

Springer Nature Singapore Pte Ltd. 2019

Publisher Name

Springer, Singapore

Print ISBN

978-981-10-7952-8

Online ISBN

978-981-10-7953-5
Industry Sectors