© 2018
Eco-friendly Agro-biological Techniques for Enhancing Crop Productivity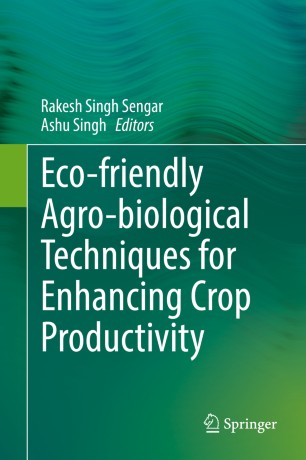 Table of contents
About this book
Introduction
As the world population is exploding and alongside fluctuations in climate is also prevalent, there is an increasing stress on the food requirements of the population.
We have an urgent necessity to produce more food in the limited agricultural land. Further, to feed 7 billion people there is a requirement of high yielding crops, without harming environment and limiting the use of unnecessary pesticide and chemical fertilizers. Therefore it has become crucial to develop agri-bio-techniques which are environment friendly and also give high crop productivity.
Many countries are evaluating the utility of biotechnology and its role in addressing problems of food security and poverty.
Biotechnology is the application of scientific and engineering principles to the processing and production of materials by utilising biological agents. These agents are exploited to provide goods and services.
Agricultural biotechnology encompasses a growing list of techniques that range from simple probes to determine a relevant gene from the complete genome to manipulating genes for a desired outcome. Many other popular methods used in the realm of agricultural technology are – gene integration, Marker-assisted breeding, Tissue culture, Gene profiling or association mapping, Metabolomics etc.
The fundamental challenge facing the scientific community is how to devise innovative strategies that will bring all developed as well as developing countries into the "biological fold" and to do so in ways that will take full advantage of advances in the biological sciences to curb poverty, improve public health, and promote human development.
This book contains information on eco-friendly techniques for high crop productivity and it is a myriad of different techniques and technology used to sustain productivity in crop plants.
There are fewer books focusing on large-scale organic farming, molecular farming etc. Multidisciplinary research and literature is needed to deliver knowledge and products into the marketplace which fulfil these requirements.
The present book is a collection of literature contributed by experts, scientists, professors, and researchers from around the world, it emphasizes work of concerned scientist and his choice of techniques used for enhancement of agricultural production. This book analyses the use of modern techniques to increase crop yields, production, and risk of hunger linked to socioeconomic scenarios.
Keywords
Chlorophyll fluorescence
Climate ready crop
Food Security
PGPR
PGPR in Management
Sustainable Management
Volatile Antibiotics
Bibliographic information