© 2018
Ecology, Economy and Society
Essays in Honour of Kanchan Chopra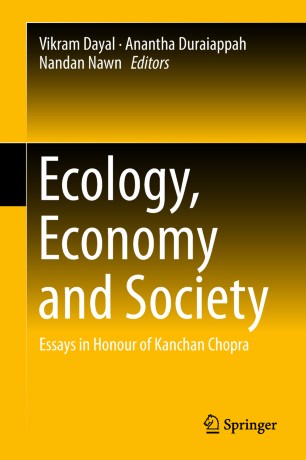 Table of contents
About this book
Introduction
This book deals with not just complex linkages, interactions and exchanges that form the relationship between the economic activities, human society and the ecosystems, but also the influences and impacts that each causes on the other. In recent times, this ecology–economy–society interface has received unprecedented attention within the broader environment–development discourse. The volume is in honour of Kanchan Chopra, one of the pioneers of research in these areas in India. She has recently been awarded the coveted Kenneth Boulding Award by the International Society for Ecological Economics (ISEE) and is the first Asian to receive it.
The four sub-themes of the book reflect some of the important areas in the environment–development discourse — sustainability of development, institutions and environmental governance, environment and well-being, and ecosystem and conservation. Within each of the sub-themes, the policy and the practice as well as the macro and micro aspects are addressed. With contributions mainly from ecological economists and ecologists, the book's approach is interdisciplinary, both in spirit and content, reflecting the honoree's work, which went not just beyond the mainstream ideology of economics, but also the way she listened to ideas from disciplines like ecology and sociology. The volume also includes two reflective essays on academic life and works of Kanchan Chopra.
The book is a valuable resource for students, teachers, researchers, practitioners and policy makers in the areas of development economics, ecological economics, environmental economics and related disciplines such as conservation, development, ecology, economics, environment, governance, health, sociology and public policy.
Keywords
Ecosystem
Ecology
Environment
Development
Economy
Economic System
Society
Conservation
Well-being
Millennium Ecosystem Assessment
Sustainable Development
Environmental Governance
Institutions
Sustainability
Sustainable Development Goals
Climate Change
Environmental Justice
Ecological Distribution Conflicts
Environmental Management
Forest Management
Bibliographic information