Applications of Biotechnology for Sustainable Development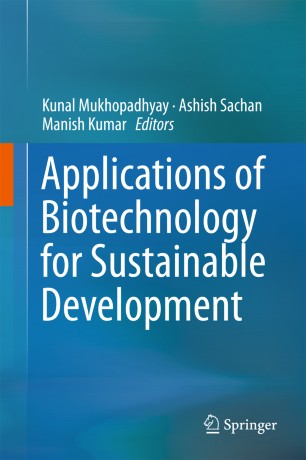 About these proceedings
Introduction
This book discusses different bioprocesses to produce value-added compounds, the science behind their production, the economics of their introduction to the marketplace, their environmental impacts, and their implications for world agriculture. It also provides insights into various technologies and protocols used.
The major strength of biotechnology is its multidisciplinary nature and broad range of scientific approaches. Recent advances in various biotechnological fields are facilitating the production of fine chemicals, recombinant proteins, biomaterials and pharmaceuticals. Biotechnology plays an important role, especially in the fields of food production, renewable raw materials and energy, pollution prevention and bioremediation. Biotechnology's greatest contribution is in agriculture – in making crops more efficient. Resource recovery, recycling and hazardous-waste disposal are other environmentally beneficial facets of biotechnology. Thus, biotechnology is a pivotal tool for sustainable development, which has become a priority for the world's policy makers.
The concept of sustainable development is based on the goal of increasing the basic standard of living of the world's growing population, without depleting finite natural resources and degrading the environment. Emerging biotechnologies offer novel approaches with the potential to achieve the goal of sustainability and striking a balance between developmental needs and environmental conservation.
Keywords
Enzymes
Biotransformation
recombinant DNA
Plant Tissue Culture
Biodiversity
sustainable development
biotechnology
Bibliographic information