Institutionalization of the Parliament in Bangladesh
A Study of Donor Intervention for Reorganization and Development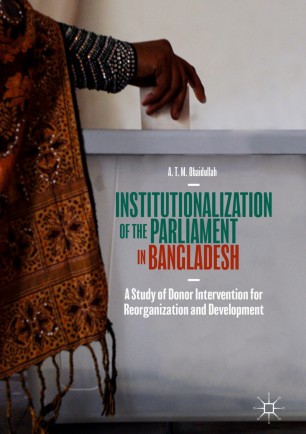 About this book
Introduction
This book explores the institutionalization process with regard to the Parliament in Bangladesh, and seeks to identify the main constrains that hinder the Parliament from serving as the uppermost representative body for all segments of society.
This book sheds valuable new light on key reform initiatives carried out by donor communities in collaboration with the Bangladesh Parliament between the years 1991 and 2015 by presenting an extensive selection of donor proposals to make the Parliament a more potent political institution.
Presenting a comparative picture of the pre- and post-reform Bangladesh Parliament, the book will be of immense value to all scholars interested in democratic governance, administrative reforms, policy studies and the role of parliament as a watchdog ensuring accountability, transparency and national integrity.
Keywords
Parliamentary Reorganization
Strengthening Parliamentary Oversight
Structural Pitfalls of Committees
Parliament Secretariat Reorganization
Bangladesh Parliament
Bibliographic information