© 2016
Principles of Imprecise-Information Processing
A New Theoretical and Technological System.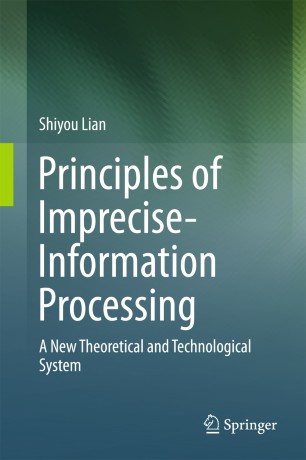 Table of contents
Introduction

Part II Formation of Flexible Linguistic Values and Their Mathematical Models: Formation Principles and Modeling of Imprecise Information

Fundamental Theories of Flexible Sets and Flexible Linguistic Values: Mathematical Theories on Imprecise Information

Truth-Degreed Logic and Flexible-Linguistic-Truth-Valued Logic: Logic Theories on Imprecise Information

Approximate Reasoning with Flexible Linguistic Rules and Approximate Evaluation of Flexible Linguistic Functions: Reasoning and Computation with Imprecise Information and Knowledge
About this book
Introduction
The book showcases cutting-edge concepts and methods, and presents the principle of imprecise-information processing. It also proposes a new theory and technology for imprecise-information processing that differs from fuzzy technology, thus providing a platform for related applications and laying the theoretical basis for further research.
Imprecise-information processing – a type of processing based on flexible linguistic values and quantifiable rigid linguistic values – is an important component of intelligence science and technology. This book offers an easy-to-understand overview of the basic principles and methods of imprecise-information processing, allowing readers to develop related applications or pursue further research.
Keywords
Information Processing
Imprecise Information
Flexible Linguistic Values
Approximate Reasoning
Imprecise Knowledge
Rigid Linguistic Values
Fuzzy Sets
Machine Learning
Robots and Automation
Pattern Recognition
Control and Decision Making
Natural Language Processing
Data Mining
Knowledge Discovery
Man-Machine Interfaces
Knowledge Representation
Anthropomorphic Computer
Multivalued Logic
Soft Computing
Artificial Intelligence
Bibliographic information
Reviews
"This research monograph is devoted to so-called flexible concepts (flexible sets) aimed at the representation and processing imprecision in systems analysis. … the book could be of interest to various groups of readers as offering yet another avenue of representing and processing imprecise information." (Witold Pedrycz, zbMATH 1370.68006, 2017)