Terra Ludus
A Novel about Media, Gender and Sport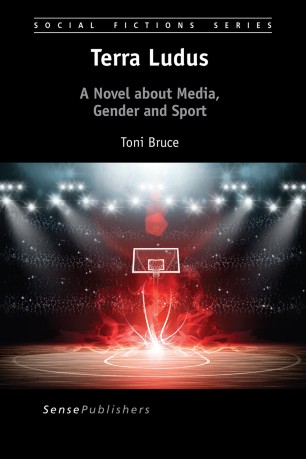 About this book
Introduction
Set in the near future, Terra Ludus follows a group of friends as their lives are turned upside down by the downstream effects of the actions of the protagonist, Daniela Bartoli. Five years after the professional International Women's Basketball League is unceremoniously dumped by its parent men's organization, Daniela is working in Los Angeles as a freelance journalist and playing regular weekend pick-up games with her friends Mike, Constantin, Dominic and Simeon. Her relatively simple life changes almost overnight after her vlog, challenging a powerful media corporation to step up and broadcast women's basketball, goes viral. The publicity sets off a chain reaction that brings the sport back into international prominence and sucks Daniela into a vortex of media and public visibility that leads her to question what is really important. In an imagined context where all professional sport takes place in a single country –something like a permanent Olympic Games – we follow a cast of characters with very different viewpoints on a roller-coaster, year-long, journey as they adjust to the new women's league. Although fictional, Terra Ludus is grounded in decades of researching, theorizing, teaching and writing about women's sport and media representation. Terra Ludus can be read entirely for pleasure or used as supplemental reading in courses in sport, media, gender, communication, journalism, sociology, creative writing, performance, physical education and cultural studies.
"Toni Bruce turns her keen literary eye on the spectacular failure of sport studies scholars and activists to convince mainstream sports media to increase coverage of women's sport. Her gripping story turns this narrative on its head, and shows all of us how things could be different. Terra Ludus shows us how to move forward. This is the power of storytelling." Norman K. Denzin, Ph.D., University of Illinois at Urbana-Champaign
"Using popular culture pedagogically to think about popular culture and power, Terra Ludus is a valuable tool for critical thought." Lawrence Grossberg, Ph.D., University of North Carolina at Chapel Hill
"Terra Ludus is a sine qua non tale about Third Wave Feminism. Set in a future society, it asks: What could happen if dominant ideas about women, sports, sexuality, ethnicity and the media left-over from the Twentieth-Century are challenged head-on by women athletes? Finding out will keep readers reading, students buzzing." Laurel Richardson, Ph.D., The Ohio State University
Toni Bruce, Ph.D., is a sport sociologist and media scholar at the Faculty of Education and Social Work, University of Auckland, New Zealand.
Keywords
Fiction
Sport
Media
Feminism
Social justice
Sexism
Bibliographic information
DOI

https://doi.org/10.1007/978-94-6300-770-2

Copyright Information

SensePublishers-Rotterdam, The Netherlands 2016

Publisher Name

SensePublishers, Rotterdam

eBook Packages

Education

Online ISBN

978-94-6300-770-2