If the Truth Be Told
Accounts in Literary Forms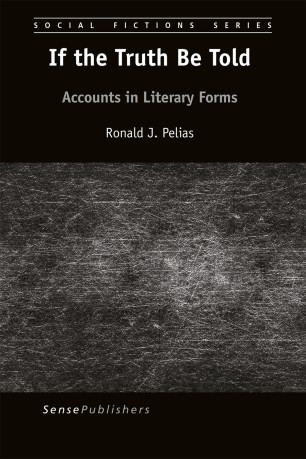 About this book
Introduction
If the Truth Be Told: Accounts in Literary Forms plays with the sense of truth. It is composed of six chapters, "Childhood Dangers," "Relational Logics," "Jesus Chronicles," "Criminal Tales," "Aging, Illness, and Death Lessons," and "Telling Truths." Each chapter includes fictional and nonfictional accounts, including poems, stories, monologues, short dramas, essays, creative nonfiction, and mixed genres, to address each chapter's subject. Pieces are based on the author's personal experiences, newspapers accounts, and purely fictional accounts (all revealed in an appendix at the end of the book). Moving through the book from beginning to end, readers may or may not know whether they are reading a nonfictional or fictional text. Pelias intentionally subverts assumptions readers may have in reading the different pieces in order to blur the boundaries of what counts as evidence, what might be accepted as truth, what might be of use in everyday lives. In this vein, Pelias invites readers to consider what they value and why. As an engaging compilation of literary works, this book can be read by anyone simply for pleasure. If Truth Be Told can also be used in any number of college courses in communication, creative writing, cultural studies, ethics, narrative inquiry, philosophy, psychology, sociology and qualitative inquiry. The book includes an extensive appendix with general and chapter-by-chapter discussion questions.
"If the truth be told, I'd confess that I found myself in many of the stories he told; I anticipate that other readers will as well, and we'll all be better for it. If the Truth Be Told solidifies Pelias's standing as a wise and creative writer par excellence." – Carolyn Ellis, University of South Florida
"For anyone interested in learning how to poetically and creatively capture the human experience, If the Truth be Told is a must read. Each tale richly satisfies yet whets the desire for more; the only solution is to keep reading right through to the end."– Lesa Lockford, Bowling Green State University
Ronald J. Pelias has spent his career working with the fusion of performance, literature, and qualitative methods in an ongoing search for truths that provide momentary places of rest.
Keywords
truth,
truth-telling
fiction and nonfiction
qualitative inquiry
arts-based inquiry
Bibliographic information
DOI

https://doi.org/10.1007/978-94-6300-456-5

Copyright Information

SensePublishers-Rotterdam, The Netherlands 2016

Publisher Name

SensePublishers, Rotterdam

eBook Packages

Education Education (R0)

Online ISBN

978-94-6300-456-5