© 2017
Cover Crops for Sustainable Farming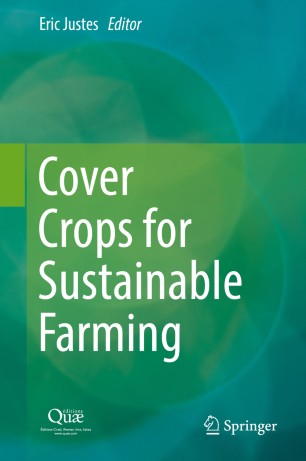 About this book
Introduction
This study, based on a literature review and simulations, shows the efficiency of cover crops at catching nitrate in most situations. It also analyzes both the negative impacts they can have and the ecosystem services they can provide: soil protection against water erosion, carbon sequestration in soils, impact on greenhouse gas emissions, contribution to weeds, pests and diseases control, etc.
The introduction of a cover crop between two main crops helps catch the soil mineral nitrogen before the period of drainage and consequently reduces nitrate leaching and nitrate concentration in the drainage water. This study allows quantifying the efficiency of cover crops at catching nitrate and optimizing their implantation conditions over a large range of French agronomic conditions.
More precisely, the study shows that cover crops are really effective to reduce nitrate concentration only if the fertilization of the previous crop has been properly fitted to the needs, in order to minimize the residual amount of nitrate in the soil. Even in this case, cover crops are always useful, because mineralization of organic matter continuously feeds/fills the mineral nitrogen pool of the soil.
The presence of high nitrate levels in surface and ground waters, is a double challenge for public health and environment protection.
The study has been carried out by INRA at the request of the French Ministry of Ecology, Sustainable Development and Energy and the French Ministry of Agriculture, Agrifood and Forest in preparation of the 5th French action program "European Nitrate Directive". A multidisciplinary group of academics has been mobilized for this, including 16 researchers (soil science, agronomy, crop protection, law ...) from different public research institutions, assisted by experts from technical institutes and extension agencies.
Keywords
Cover crops
Nitrate leaching
Water pollution
Ecosystem services
Crop simulation
Bibliographic information