© 2016
Theory and Applications of Smart Cameras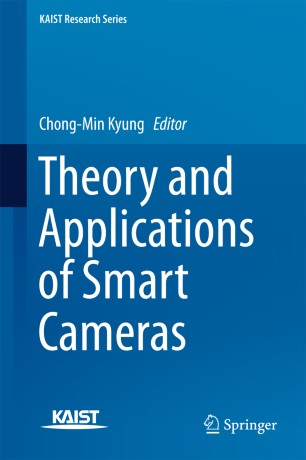 Table of contents
About this book
Introduction
This book presents an overview of smart camera systems, considering practical applications but also reviewing fundamental aspects of the underlying technology. It introduces in a tutorial style the principles of sensing and signal processing, and also describes topics such as wireless connection to the Internet of Things (IoT) which is expected to be the biggest market for smart cameras.
It is an excellent guide to the fundamental of smart camera technology, and the chapters complement each other well as the authors have worked as a team under the auspice of GFP(Global Frontier Project), the largest-scale funded research in Korea. This is the third of three books based on the Integrated Smart Sensors research project, which describe the development of innovative devices, circuits, and system-level enabling technologies. The aim of the project was to develop common platforms on which various devices and sensors can be loaded, and to create systems offering significant improvements in information processing speed, energy usage, and size.
This book contains extensive reference lists, introduces the reader to the subject in a tutorial style and also reviews state-of-the-art results, which allows it to be used as a guide for starting researchers.
Keywords
Endoscope sensors
Energy Harvesting
Environmental Sensors
Event detection methodology
Face detection
Internet of Things
Smart camera image processing
Smart camera technology
Wireless video sensor network
Bibliographic information