Cytochrome Complexes: Evolution, Structures, Energy Transduction, and Signaling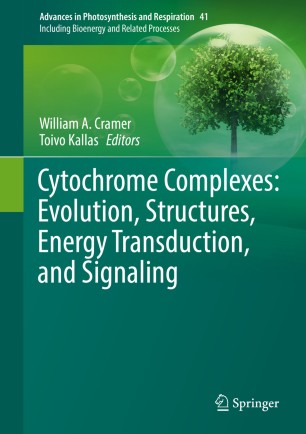 Table of contents
Diversity and Evolution

Theoretical Aspects of Electron Transfer

Molecular Structures and Functions of Cytochrome Complexes

Superoxide Generation in Cytochrome bc Complexes

Cytochrome Complexes, Signaling, and Regulation

Assembly of Cytochrome Complexes and Super-Complexes

Branched Pathways and Cryptic Cytochromes
About this book
Introduction
Why study cytochrome complexes? An answer is in the subtitle of the book "Evolution, Structures, Energy Transduction, and Signaling". Studies on the cytochrome family of proteins include and, influence, a wide range of theoretical and computational approaches, as well as a broad cross-section of experimental techniques. Studies of cytochromes and cytochrome complexes thus utilize an extraordinary range of experimental approaches, described in this volume, which include: computational biology, genetics, macromolecular biochemistry, molecular biology, the physics of charge transfer, structure analysis using x-ray and electron diffraction, and ultra-fast spectroscopy. This information and understanding exerts an influence on a wide spectrum of subjects in modern biology, including molecular evolution, mechanisms of membrane-based respiratory and photosynthetic energy transduction, theory of charge transfer in proteins, structure-function of large hetero-oligomeric membrane proteins, including lipid-protein interactions, and trans-membrane signaling.
The book starts with a historical introduction that focuses on research in the first half of the 20th century, and the pre-World War II development in England of the field and its notation, proceeding to a discussion of the evolution of cytochromes and hemes, fundamentals of the theory of electron transfer in proteins, and an extensive description of molecular structures of cytochromes and of the cytochrome complexes. The latter information has had a major impact on the broad field of the structure-function of integral membrane proteins, the newest area of macromolecular structural biology. The book includes thorough discussions on cytochrome oxidase including the use of the new non-destructive femtosecond "diffraction before destruction" X-ray free electron laser for diffraction analysis, and major sections on signaling, super-complexes, state transitions, and the interaction of linear and cyclic electron transport chains.
The extent of fundamental research areas included in this book makes it an important resource for the teaching of broad aspects of biological energy transduction to advanced undergraduate and graduate students with interests in biology, biochemistry, biological engineering, chemistry, and biophysics.
Keywords
Cytochromes
Energy transduction
Membranes
Evolution
Signaling
Bibliographic information
DOI

https://doi.org/10.1007/978-94-017-7481-9

Copyright Information

Springer Science+Business Media Dordrecht 2016

Publisher Name

Springer, Dordrecht

eBook Packages

Biomedical and Life Sciences

Print ISBN

978-94-017-7479-6

Online ISBN

978-94-017-7481-9

Series Print ISSN

1572-0233

Series Online ISSN

2215-0102
Industry Sectors