© 2000
Medieval Philosophy and Modern Times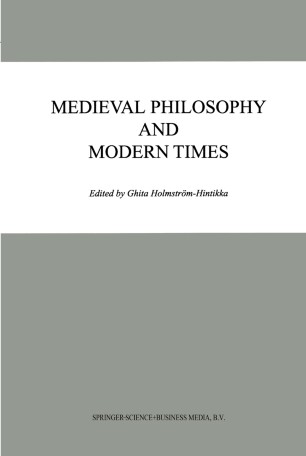 About this book
Introduction
Modern developments in philosophy have provided us with tools, logical and methodological, that were not available to Medieval thinkers - a development that has its dangers as well as opportunities. Modern tools allow one to penetrate old texts and analyze old problems in new ways, offering interpretations that the old thinkers could not have known. But unless one remains sensitive to the fact that language has undergone changes, bringing with it a shift in the meaning of terminology, one can easily perpetrate an anachronism.
Yet there is a growing need to bring modern tools and to bear on the struggle for greater understanding of the problems studied and the solutions found by the ancient scholars. If we remain sensitive to the dangers, this openness to new methods can be expected to widen our perspectives and deepen our knowledge of old material.
The focus in the present volume is on problems in Medieval and contemporary philosophy of religion.
Keywords
Medieval philosophy
Religion
philosophy of religion
Bibliographic information