© 2013
Water Policy in Israel
Context, Issues and Options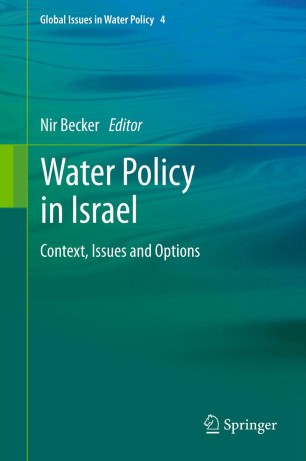 About this book
Introduction
This book deals with water policy in Israel. It offers a detailed examination of the main sources of Israel's water, its principle consumers, the gap between supply and demand, and the complex, contentious work of analyzing and devising the nation's water management and use policies.
Water Policy in Israel is arranged in five broad sections: The dynamics of moving from one policy era to another; Supply management; Demand management; The importance of the Sea of Galilee and the Dead Sea; and Regional and global issues including water conflict and cooperation and climate change.
Expert contributors discuss such topics as the history of Israel's water policy, and the reasoning which explains long periods of policy stalemate, especially in situations where the risks generated by prolonged impasse are obvious. Other chapters describe efforts to meet agricultural demand for water by augmenting supplies with groundwater management, waste water re-use and desalination. The impact of climate change is discussed, along with the international dimensions of water policy, including many examples of conflict and cooperation between Israel and its neighbors, the Arab-Israeli conflict and possible areas of cooperation and conciliation. The last two chapters include a review of the last reforms initiated by the Israeli Water Authority in light of the foregoing issues which is followed by the last chapter, presenting the editor's assessment and conclusions.
Keywords
Decision making
Israel
Water management
Water policy
Bibliographic information