© 2012
Thin Liquid Films
Dewetting and Polymer Flow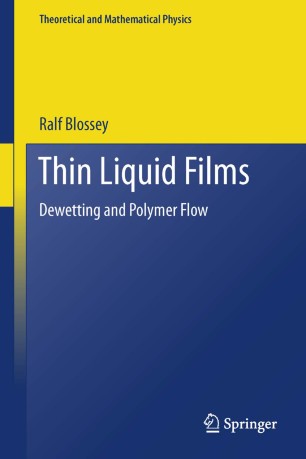 About this book
Introduction
This book is a treatise on the thermodynamic and dynamic properties of thin liquid films at solid surfaces and, in particular, their rupture instabilities. For the quantitative study of these phenomena, polymer thin films haven proven to be an invaluable experimental model system.
What is it that makes thin film instabilities special and interesting, warranting a whole book? There are several answers to this. Firstly, thin polymeric films have an important range of applications, and with the increase in the number of technologies available to produce and to study them, this range is likely to expand. An understanding of their instabilities is therefore of practical relevance for the design of such films.
Secondly, thin liquid films are an interdisciplinary research topic. Interdisciplinary research is surely not an end to itself, but in this case it leads to a fairly heterogeneous community of theoretical and experimental physicists, engineers, physical chemists, mathematicians and others working on the topic. It justifies attempting to write a text which aims at a coherent, theoretical presentation of the field which researchers across their specialised communities might be interested in.
And finally, thin liquid films are an interesting laboratory for a theorist to confront a well-established theory, hydrodynamics, with its limits. Liquids at surfaces take notice of the surface they are placed upon, and this is reflected in their dynamics. And the polymers, when confined to thin films, can imprint molecular properties on the film dynamics.
The material in the book is arranged in two Parts. Part I covers the basics of wetting and dewetting phenomena, and is of interest to researchers working in the field also outside of polymeric systems. It can be read as a brief introduction into the theory of wetting phase transitions. Part II delves exclusively into polymeric thin films, their mathematical description, and the confrontation with experiment.
The present book attempts to bridge between the 'light' and the 'rigorous', always with the ambition to enhance insight and understanding - and to not let go the elegance of the theory.
Keywords
Applications Polymeric Films
Dewetting
Fluctuations Thin Films
Glass Transition Thin Films
Hydrodynamics Limits Investigation
Hydrodynamics Thin Films
Mathematics Thin Film Equation
Numerics Thin Film Equation
Physics of Dewetting
Polymer Thin Film
Polymer Thin Films
Polymer Ultrathin Film
Polymer Ultrathin Films
Theory Thin Film Instability
Theory of Dewetting
Thermodynamic Properties Thin Film
Thermodynamic Property Thin Film
Thin Film
Thin Film Dewetting
Thin Film Dynamics
Thin Film Instability
Thin Film Rupture
Thin Film Solid Surface
Thin Film Solid Surfaces
Thin Films
Thin Films Instability
Thin Films Rupture
Thin Liquid Film
Thin Liquid Films
Unstable Thin Film
Unstable Thin Films
Wetting and Dewetting
Bibliographic information
Reviews
From the reviews:
"The text is spread over six chapters with appendices, lists of figures and symbols used, and bibliography. The appendices make the text self-sufficient. A useful aspect for graduate students is the inclusion of tasks in each chapter. … The text is very well written, and the concepts are laid down with clarity. The emphasis is on the reader to appreciate the subject … ." (S. C. Rajvanshi, Zentralblatt MATH, Vol. 1255, 2013)