© 2011
Vibration and Structural Acoustics Analysis
Current Research and Related Technologies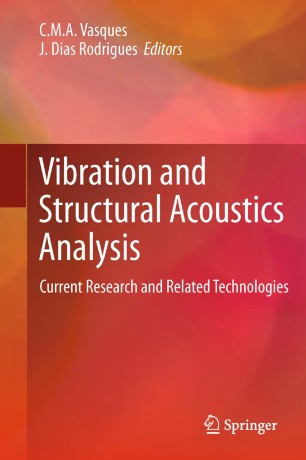 Table of contents
About this book
Introduction
The underlying technologies of this field of multidisciplinary research are evolving very fast and their dissemination is usually scattered over different and complementary scientific and technical publication means. In order to make it easy for developers and technology end-users to follow the latest developments and news in the field, this book collects into a single volume selected, extended, updated and revised versions of papers presented at the Symposium on Vibration and Structural Acoustics Analysis, coordinated by J. Dias Rodrigues and C. M. A. Vasques, which was organised as part of the 3rd International Conference on Integrity, Reliability & Failure (IRF'2009), co-chaired by J. F. Silva Gomes and Shaker A. Meguid, held at the Faculty of Engineering of the University of Porto, Portugal, 20-24 July 2009.
These papers where chosen from the more than 60 papers presented at the conference symposium.
Written by experienced practitioners and researchers in the field, this book brings together recent developments in the field, spanning across a broad range of themes: vibration analysis, analytical and computational structural acoustics and vibration, material systems and technologies for noise and vibration control, vibration-based structural health monitoring/evaluation, machinery noise/vibration and diagnostics, experimental testing in vibration and structural acoustics, applications and case studies in structural acoustics and vibration. Each chapter presents and describes the state of the art, presents current research results and discusses the need for future developments in a particular aspect of vibration and structural acoustics analysis.
The book is envisaged to be an appealing text for newcomers to the subject and a useful research study tool for advanced students and faculty members. Practitioners and researchers may also find this book a one-stop reference that addresses current and future challenges in this field. The variety of case studies is expected to stimulate a holistic view of sound and vibration and related fields and to appeal to a broad spectrum of engineers such as the ones in the mechanical, aeronautical, aerospace, civil and electrical communities.
Keywords
Bibliographic information