Questioning Cosmopolitanism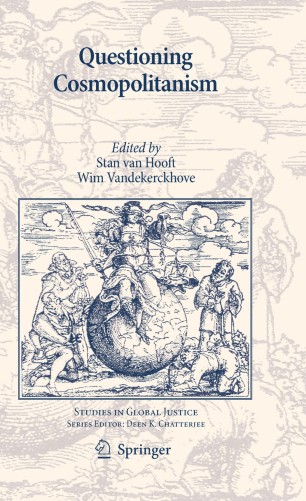 Table of contents
About this book
Introduction
Cosmopolitanism is an emerging theme in studies of global justice and provides a meeting point between theorists of international law, political science, political philosophy, applied ethics, economics, development studies, and international relations. It insists that each individual in the world has the same moral value irrespective of nationality, ethnicity, language or religion. But cosmopolitanism is not just about a new and expanded set of norms that apply to the global community. It is also about new ways of being: being a citizen of the world, being concerned for others who are distant strangers, and being committed to pursuing human rights and social justice anywhere in the world. These emerging forms of "cosmopolitan subjectivity" are explored in this volume along with significant proposals for institutional changes that are ethically required in our globalized world. Stemming from the Second International Conference of the International Global Ethics Association held in Melbourne, Australia in June 2008, the essays in this book open new pathways in the growing literature on cosmopolitanism.

"What does it mean to be a citizen in the context of globalization? How is globalization shaping our relationship to our country and to the world? This book offers insight into the claims of loyalty and allegiance that come along with patriotic sentiments and claims of universal human rights. Global politics has now entered a new era of identity politics, and cosmopolitanism is at its core."

Joel H. Rosenthal, President, Carnegie Council for Ethics in International Affairs, New York, U.S.A.


Questioning Cosmopolitanism makes interesting contributions to such ongoing debates in the current Global Justice literature as those concerning (a) the different versions of so-called "Cosmopolitan" theses, (b) the tension between the "universalist" moral commitments of cosmopolitans and the "particularist" loyalties of political theorists for whom principles of distributive justice apply only (or principally) within the nation-state, (c) the defensibility, across diverse cultures, of the various versions of the ("universalist") cosmopolitan ideal, (d) the disagreement about whether cosmopolitan ideals are grounded in principles of justice or in a principle of humanity, (e) the prospects for the establishment of global democratic institutions of the kind advocated by David Held, and so on.

Alistair M. Macleod, Department of Philosophy, Queen's University, Ontario, Canada
Keywords
Cosmopolitan freedom
Cosmopolitan stranger
Cosmopolitan vision
Cosmopolitanism
Fetishism of identity
Global Interconnectedness
Global ethics
Global justice
Moral progress
Recognition
Redeeming freedom
World citizenship
World history
ethics
morality
Bibliographic information