© 2010
Oceanography from Space
Revisited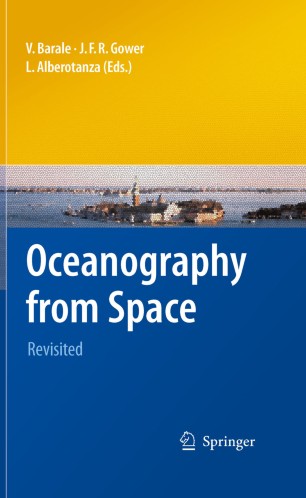 Table of contents
About this book
Introduction
This Volume collects a series of key-note lectures delivered at the fourth "Oceans from Space" Symposium, held in Venice, Italy, in 2010. The revisited postscript in the title identifies it as the ideal follow-up of the legendary Oceanography from Space, edited by J.F.R. Gower and published in 1980, following the very first edition of "Oceans from Space". This series of conferences, which are held every 10 years only, is designed as a periodical state-of-the-art review of satellite oceanography, providing both an outline of current research, as well as a forum to debate topical issues. The "Oceans from Space" Venice 2010 lectures, authored by a unique group of prominent scientists, address virtually every facet of oceanographic remote sensing. All salient marine applications of passive and active techniques are covered in the present collection. The main results already achieved, or soon to come, demonstrate the potential of Earth Observations to help explore the dynamical and bio-geo-chemical features of the World's Oceans.

V. BARALE graduated in Physics in 1977, from the University of Milan, and then received both his M.S., in 1982, and Ph.D., in 1986, at the Scripps Institution of Oceanography, from the University of California at San Diego. Since 1990 he has been with the Joint Research Centre of the European Commission. His research focuses on the ecological assessment of marginal and enclosed (European) seas, using optical remote sensing.

J.F.R. GOWER received his Ph.D. in Radio Astronomy in 1966 at the University of Cambridge, England, after graduating in Natural Sciences from the same University in 1962. He moved to Canada and joined the University of British Columbia in 1967. Since 1971 he has been at the Institute of Ocean Sciences, where he worked on optical, SAR and altimeter satellite data. He originated the "Oceans from Space" Conference series.

L. ALBEROTANZA graduated in Geology in 1969 at the University of Padova. His career developed at the Consiglio Nazionale delle Ricerche (CNR), in Venice, where he has done research on optical remote sensing of marine, coastal and lagoon areas. He has been Director of the Venice CNR Institute, Professor at the University of Venice, and is now President of the Venice City Council Tidal Forecasting and Early Warning Centre.
Keywords
AVHRR
Coast
Ocean
Oceanography
Radiometer
ecosystem
environment
environmental monitoring
geology
marine
remote sensing
satellite
sea level
spatial data infrastructure
temperature
Bibliographic information