The Ecology of Fungal Entomopathogens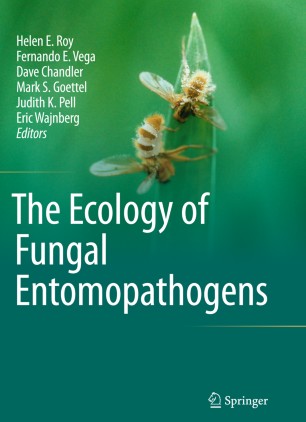 Table of contents
About this book
Introduction
Understanding of the ecology of fungal entomopathogens has vastly increased since the early 1800's, but remains challenging. The often complex interactions between pathogen and host are being unravelled through eloquent research and the importance of the often subtle interactions, in determining the success or failure of biological control, cannot be underplayed. The realm of ecology is vast and deciphering insect-fungal pathogen interactions within an ecological context will take us on voyages beyond our imagination. This book brings together the work of renowned scientists to provide a synthesis of recent research on the ecology of fungal entomopathogens exploring host-pathogen dynamics from the context of biological control and beyond.
Dr. Helen Roy leads zoological research in the Biological Records Centre at the NERC Centre for Ecology & Hydrology, UK. The focus of her research is insect community interactions with particular emphasis on the effects of environmental change. She has been working on the ecological interactions between fungal entomopathogens and their hosts for 15 years; this continues to be a source of fascination. She has been an associate editor of BioControl since 2006.
Dr. Dave Chandler is an insect pathologist at the University of Warwick, UK. He has studied entomopathogenic fungi for just over 20 years. He has particular interests in entomopathogenic fungi as biocontrol agents of horticultural crops, fungal physiology and ecology, and the pathogens of honeybees.
Dr. Mark Goettel is an insect pathologist at the Lethbridge Research Centre of Agriculture & Agri-Food Canada, specializing in the development of fungal entomopathogens as microbial control agents of insects. In addition to this research, he has been extensively involved in the review and revision of the regulations for registration of microbial control agents and has addressed regulatory and safety issues at the international level. He is currently President of the Society for Invertebrate Pathology and has been Editor-in-Chief of Biocontrol Science & Technology since 2000.
Dr. Judith K. Pell heads the Insect Pathology Group in the Department for Plant and Invertebrate Ecology at Rothamsted Research, UK. She leads research on the ecology of fungal entomopathogens, to elucidate their role in population regulation and community structure and to inform biological control strategies. Specifically: intraguild interactions; the relationships between guild diversity, habitat diversity and ecosystem function; pathogen-induced host behavioural change.
Dr. Eric Wajnberg is a population biologist specialising in behavioural ecology, statistical modelling and population genetics. He is also an expert in biological control, with more than 20 years experience of working with insect parasitoids. He has been the Editor in Chief of BioControl since 2006.

Dr. Fernando E. Vega is an entomologist with the United States Department of Agriculture, Agricultural Research Service, in Beltsville, Maryland, USA. He conducts research on biological methods to control the coffee berry borer, the most important insect pest of coffee throughout the world. He is co-editor, with Meredith Blackwell, of Insect-Fungal Associations: Ecology and Evolution, published by Oxford University Press in 2005, and serves as an Editorial Board Member for Fungal Ecology.
Keywords
Fungi
ecology
ecosystem
environment
hydrology
insect
Bibliographic information
DOI

https://doi.org/10.1007/978-90-481-3966-8

Copyright Information

Springer Science+Business Media B.V. 2010

Publisher Name

Springer, Dordrecht

eBook Packages

Biomedical and Life Sciences

Print ISBN

978-90-481-3965-1

Online ISBN

978-90-481-3966-8
Industry Sectors