© 2010
The Impact of HST on European Astronomy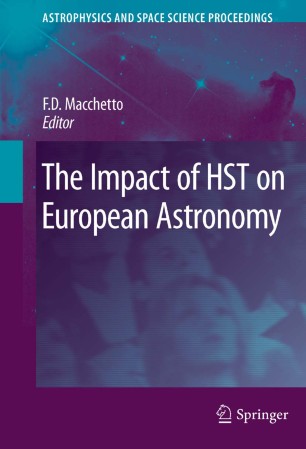 Table of contents
About these proceedings
Introduction
The Hubble Space Telescope has facilitated major contributions to a wide range of topics in astronomy:
The study of nearby planets
The processes of star and planet formation
The stellar and interstellar components of galaxies
The discovery that most, if not all, galactic nuclei harbor a massive black hole that profoundly affects their evolution
The realisation that the universe as a whole is undergoing acceleration as a result of a yet unknown form of "dark energy".
This volume offers a broad perspective of the advancements made possible by the HST over its almost two decades of operation and emphasises their impact on European astronomical research. These proceedings of 41st symposium in the ESLAB series of the European Space Agency collect the oral and poster papers that were presented and discussed during the meeting.
Keywords
Dark energy
Deep fields
Duccio Macchetto
European Astronomy
Galaxies
Galaxy formation
HST
Hubble Space Telescope
Hubble constant
Planets
Quasar
Redshift
Star formation
Stars
Stellar populations
Bibliographic information