© 2009
Ecology, Cognition and Landscape
Linking Natural and Social Systems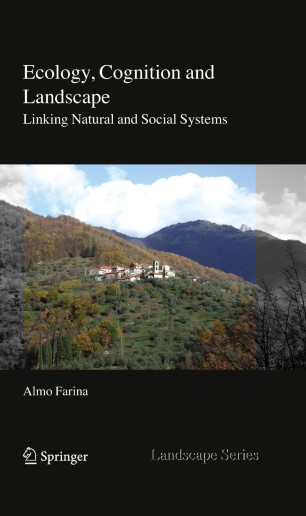 About this book
Introduction
While the importance of incorporating human factors into understanding ecological process is widely recognized, to date there have been few solutions offered as to how this can be done. In his new book, Ecology, Cognition and Landscape, Almo Farina makes an innovative move to do just that. And by reinterpreting both the ecological and social strands of landscape ecology, within a common framework based on cognition, he offers a way to make the necessary connections between the social and natural systems.
Following the success of his widely popular Principles and Methods in Landscape Ecology, Farina's new book builds on well-established theories to present his new ideas, explaining both in a way which is accessible to readers from both the natural and social sciences. By focusing on the relationships between human populations, human societies and environmental processes, the book provides the reader with a new approach for exploring and connecting the various aspects of ecological complexity.
Ecology, Cognition and Landscape will be an important and accessible reference for graduate students and researchers interested in all aspects of landscape studies, including ecologists, architects, agronomists, social scientists, environmental psychologists, and those exploring the economic, political and educational dimensions of both rural and urban landscapes.
Keywords
Complexity theory
Landscape ecology
Natural sciences
Social sciences
ecology
ecotone
environment
Bibliographic information