© 2009
Assessing Well-Being
The Collected Works of Ed Diener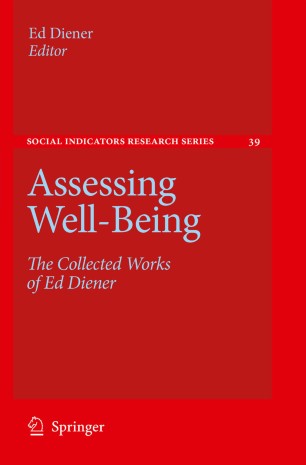 Table of contents
About this book
Introduction
The Collected Works of Ed Diener, in 3 volumes, present the major works of the leading research scientist studying happiness and well-being. Professor Diener has studied subjective well-being, people's life satisfaction and positive emotions, for over a quarter of a century, and has published 200 works on the topic, many more than any other scholar. He has studied hundreds of thousands of people in over 140 nations of the world, and the Collected Works present the major findings from those studies. Diener has made many of the major discoveries about well-being, which are outlined in the chapters.
The first volume presents the major theory and review papers of Ed Diener. These publications give a broad overview of findings in the field, and the theories of well-being. As such, the first volume is an absolute must for beginning scholars in this area, and offers a clear tutorial to the history of the field and major findings. The second volume focuses on culture. This volume is most unique, and could sell on its own, as it should appeal to cultural psychologists and anthropologists. The findings in the culture area are mostly all derived from the Diener laboratory and his students. Thus, the papers in this volume represent most of the major publications on culture and well-being. Furthermore, this is the area that is least well-known by most scholars. The third volume on measurement is the most applied and practical one because it discusses all the measures used, and presents new measures. Even for those who do not want to study well-being per se, but want to use some well-being measures in their research, this volume will be of enormous help.
Volume 1: Gives a broad overview of findings and theories on subjective well-being.
Volume 2: Presents most of the major papers on well-being and culture, and the international differences in well-being
Volume 3: Presents discussions of measures of well-being and new measures of well-being, and is thus of great value to those who want to select measurement scales for their research
Endorsements
Over the past several decades Professor Diener has contributed more than any other psychologist to the rigorous research of subjective well-being. The collection of this work in this series is going to be of invaluable help to anyone interested in the study of happiness, life-satisfaction, and the emerging discipline of positive psychology. Mihaly Csikszentmihalyi, Professor of Psychology And Management, Claremont Graduate University
Ed Diener, the Jedi Master of the world's happiness researchers, has inspired and informed all of us who have studied and written about happiness. His life's work epitomizes a humanly significant psychological science. How wonderful to have his pioneering writings collected and preserved for future students of human well-being, and for practitioners and social policy makers who are working to promote human flourishing. David G. Myers, Hope College, and author, The Pursuit of Happiness.
Ed Diener's work on life satisfaction -- theory and research -- has been ground-breaking. Having his collected works available will be a great boon to psychologists and policy-makers alike. Christopher Peterson, Professor of Psychology, Univ. of Michigan
By looking at happiness and well-being in many different cultures and societies, from East to West, from New York City to Calcutta slums, and beyond, Ed Diener has forever transformed the field of culture in psychology. Filled with bold theoretical insights and rigorous and, yet, imaginative empirical studies, this volume will be absolutely indispensable for all social and behavioral scientists interested in transformative power of culture on human psychology. Shinobu Kitayama, Professor and Director of the Culture and Cognition Program, Univ. of Michigan
Ed Diener is one of the most productive psychologists in the world working in the field of perceived quality of life or, as he prefers, subjective wellbeing. He has served the profession as a researcher, writer, teacher, officer in professional organizations, editor of leading journals, a member of the editorial board of still more journals as well as a member of the board of the Social Indicators Research Book Series. As an admirer of his work and a good friend, I have learned a lot from him, from his students, his relatives and collaborators. The idea of producing a collection of his works came to me as a result of spending a great deal of time trying to keep up with his work. What a wonderful public and professional service it would be, I thought, as well as a time-saver for me, if we could get a substantial number of his works assembled in one collection. In these three volumes we have not only a fine selection of past works but a good number of new ones as well. So, it is with considerable delight that I write these lines to thank Ed and to lend my support to this important publication. Alex C. Michalos, Ph.D., F.R.S.C., Chancellor, Director, Institute for Social Research and Evaluation, Professor Emeritus, Political Science, Univ. of Northern British Columbia
Keywords
Emotions
emotion
happiness
life satisfaction
personality
quality of life
subjective well-being
well-being
Bibliographic information
Reviews
From the reviews: "Assessing Well-Being, is concerned with the measurement of life satisfaction. … Also, newly written, they point the way for future research. … Certainly academic researchers interested in well-being will find them extremely useful. … The reprinted book chapters are not so readily available, so their inclusion is a real plus. The audience should extend beyond research psychologists and include policy makers as well as interested members of the general public. … the collected works of Ed Diener are timely, impressive, and useful." (Christopher Peterson, PsycCRITIQUES, Vol. 54 (50), 2009)