© 2011
Human Modelling in Assisted Transportation
Models, Tools and Risk Methods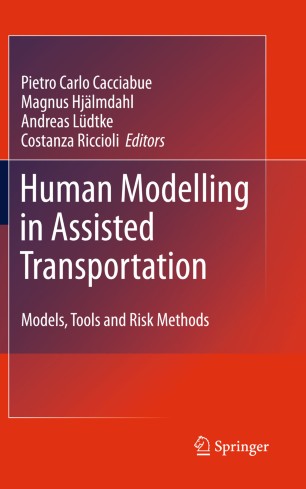 Table of contents
About these proceedings
Introduction
In modern society, the human being is the central element of the design process of non-fully automated control and safety system, as well as the major source and contributor to accidents. Therefore, accounting for human modelling is necessary in design processes and in safety assessments, in order to ensure appropriate consideration of human factors. These issues are particularly true for the domain of transportation, where safety related aspects are of paramount importance for their impact on citizen well being, in consideration of the simple fact that almost everybody makes daily usage of public and private transportation systems.
Even though the behavioural and cognitive science has dealt with this problem for decades, the issue of modelling human behaviour remains central to the topic of design of human-machine systems. To tackle this issue, three Eu Co-funded projects, ISi-PADAS, ITERATE and HUMAN, will provide, in different domains, overall models of the joint cognitive systems, represented by the human in control, the governed machine and the working environment. These models, in addition to providing an improved understanding of the interactions between human and machines in a design perspective, enable the consideration of human error in risk-based approaches and the development of appropriate countermeasures.
The objective of this book, which is the result the Workshop "Human Modelling in Assisted Transportation" (HMAT), is to provide an overview of the state of the art of the problem of human behaviour modelling in transportation systems, and to confront models, methods and tools developed within these three projects with the ongoing research carried out worldwide.
Keywords
Cognitive Modelling
Human Factors
Information Technology and neurosciences applications
Risk Assessment
Transportation safety
Bibliographic information