© 2008
Biliary Lithiasis
Basic Science, Current Diagnosis and Management
Provides a complete overview on biliary lithiasis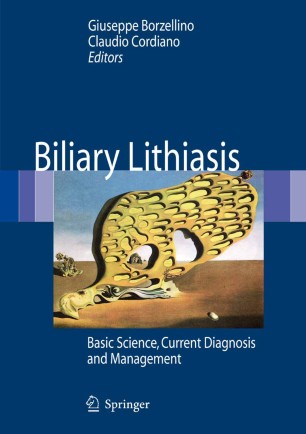 Table of contents
About this book
Introduction
The book provides an overview on biliary lithiasis and all its clinical pictures, twenty years after the first laparoscopic cholecystectomy. The gallbladder, the main bile duct and intra-hepatic stones, in their uncomplicated and complicated forms are illustrated. Chapters are focused on basic science, epidemiology, diagnostic and therapeutic approaches to biliary lithiasis. The different diagnostic procedures described include invasive and noninvasive imaging, and treatment options take into consideration medical treatment, open and minimally invasive surgery, endoscopic and percutaneous approaches, both individually and as combined procedures.
The book's content is not limited to the most commonly used therapeutic approaches reported in the literature, but also addresses new and innovative therapeutic strategies for biliary lithiasis.
Thanks to its comprehensive approach, this volume will be of interest not only for GPs amd specialists in this field, but also to residents and other health professional of different disciplines.
Keywords
classification
cystectomy
diagnosis
endoscopy
imaging
interventional radiology
laparoscopic surgery
laparoscopy
minimally invasive surgery
obesity
pathophysiology
physiology
shock
surgery
ultrasound
Bibliographic information
Reviews
From the reviews:
"This is an attempt to provide a comprehensive reference for all practitioners in the field … . The book fulfills this worthy objective admirably. … It is intended primarily for nonspecialist surgeons and physicians. … This is an excellent addition to the library of surgeons for whom biliary tract disease is a significant portion of practice. … highly readable and will serve as an excellent reference for students and trainees. … will fill an important place in the libraries of many physicians and institutions." (Carol EH Scott-Conner, Doody's Review Services, January, 2009)