Herbal Insecticides, Repellents and Biomedicines: Effectiveness and Commercialization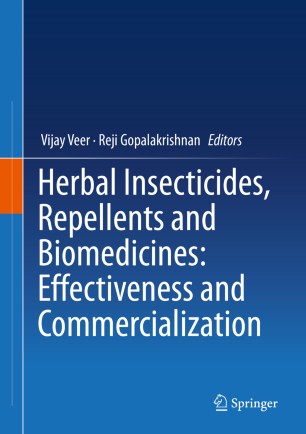 About this book
Introduction
This book looks closely at herbal product development and commercialisation. In spite of an ever-growing demand, there is a dearth of safe and effective herbal products that meet consumers' expectations. Therefore, this book takes it upon itself to elaborate on the development process of herbal insecticides, repellents and biomedicines from a commercialisation point of view.
The introductory chapters deal with the various strategies for disease vector control and provide an overview of herbal biomedicines. The subsequent chapter describes plants with mosquito larvicidal activity, including a comprehensive list of lethal concentrations against different mosquito species. The chapter on Himalayan plants discusses potential botanical insecticide sources and their chemical constituents before delving into the topic of natural insecticides of microbial origin and their efficacy against mosquitoes. Plant-derived insecticides belonging to different chemical classes and the extraction, purification and characterisation of bioactive compounds are illustrated, as well. The recent technological advances in the formulation of microbial, biochemical and botanical insecticides are also reviewed. Three chapters focus on important medicinal plants useful for treating human ailments, with special reference to the traditional healing practices of northeastern India. This is followed by a chapter on the production, use and safety of biopharmaceuticals and edible, plant-based vaccines.
The intellectual property issues related to herbal products in India including patents, trademarks, geographical indications, trade secrets and traditional knowledge resources are plainly examined. The book ends with a chapter on the herbal product registration process in India, wherein the data requirements for registration, clinical efficacy trials, toxicity studies, quality control, packaging and labelling are clearly explained. In conclusion, this book is a step-by-step guide for the development of safe, effective and commercially viable herbal insecticides, repellents and biomedicines.
Keywords
Pest Management
Vector Control
Commercialisation
Herbal Formulations
Insect Repellent
Intellectual Property
Biomedicine
Traditional Knowledge
Bibliographic information