© 2014
Nuclear Medicine
A Guide for Healthcare Professionals and Patients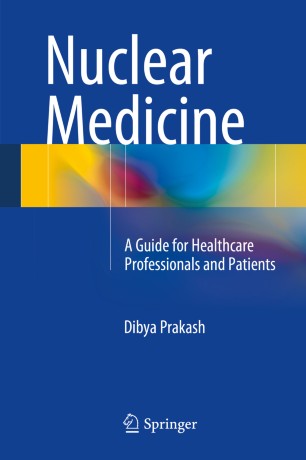 Table of contents
About this book
Introduction
The book is a compilation of guidelines from various organizations such as
Society of Nuclear Medicine & Molecular Imaging, European Association of
Nuclear Medicine, American College of Radiology, and International Atomic
Energy Agency. The description of the procedures is simple, easy to understand
and current.
The aim of this book is:
a) Nuclear medicine professionals can use this book as a quick reference about
how a procedure is to be performed. The set of instructions given to a patient
before, during and after the procedure have also been included in each chapter.
b) To educate general physicians about nuclear medicine procedures. The
procedures are explained briefly with common indications and precautions.
Normal and abnormal nuclear medicine images have also been included for
quick comparison.
c) To educate paramedical staff or healthcare professionals so that they can brace themselves rather than embrace. By this they can clarify, suffice the eager and send patients to a nuclear medicine department after proper preparation.
d) To educate patients who come for nuclear medicine procedure.
e) To remove apprehensions and doubts which arise in the mind of the patients.
Keywords
Nuclear Medicine Procedures
Nuclear Medicine Terminology
Radiation Safety
Radiopharmaceuticals
Bibliographic information
Reviews
"This book is an attempt to address this issue and provide information about nuclear medicine procedures and explain the commonly used terms in nuclear medicine and radiation protection. … a useful addition to nuclear medicine literature … it is more likely to be used by trainees in nuclear medicine and radiology rather than patients and other non-nuclear medicine related healthcare professionals." (Alp Notghi, RAD Magazine, March, 2015)

"The book can be used as a quick reference book for educating and increasing the awareness and removing the apprehensions about nuclear medicine among common people. Simple language and good illustrations make the book attractive to all kind of readers, with a need to popularize the science of nuclear medicine. … the author is successful in his endeavor for educating and popularizing nuclear medicine among patients, the public, physicians and health care professionals at their desired level." (Shivanand Bhushan, Indian Journal of Nuclear Medicine, Vol. 29 (4), October-December, 2014)