High-Performance and Specialty Fibers
Concepts, Technology and Modern Applications of Man-Made Fibers for the Future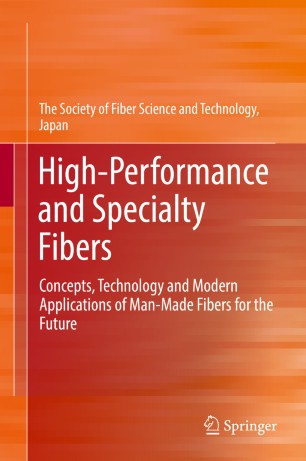 Table of contents
About this book
Introduction
This book reviews the key technologies and characteristics of the modern man-made specialty fibers mainly developed in Japan. Since the production of many low-cost man-made fibers shifted to China and other Asian countries, Japanese companies have focused on production of high-quality, high-performance super fibers as well as highly functionalized fibers so-called 'Shin-gosen'. ZylonTM and DyneemaTM manufactured by Toyobo, TechnoraTM produced by Teijin, and VectranTM developed by Kuraray are those examples of super fibers. Carbon fibers ToraycaTM from Toray have occupied the most advanced high-performance application area. Various types of polyester fibers having design-shaped cross-sections and special fiber morphologies and those showing specific physico-chemical properties have also been developed to acquire a high-value textile market of the world.
This book describes how these high-tech fibers have been developed and what aspects are the most important in each fiber based on its structure-property relationship. Famous specialists both in industry and academia are responsible for the contents, explaining the design concepts and the special technologies for the production of these special fibers. For university teachers and students, this volume is an excellent textbook that elucidates the basic concepts of modern fibers. At the same time, researchers, both in academia and industry, will find a comprehensive overview of recent man-made fibers.
This publication, presenting the most easily understandable general survey of specialty man-made fibers to date, is dedicated to the 70th-anniversary of the Society of Fiber Science and Technology, Japan.
Keywords
Dyneema
Fiber Industry in Japan
Functional Fibers
Man-made Fibers
Speciality Fibers
Super Fibers
Vectran
Zylon
Bibliographic information
DOI

https://doi.org/10.1007/978-4-431-55203-1

Copyright Information

Springer Japan 2016

Publisher Name

Springer, Tokyo

eBook Packages

Chemistry and Materials Science

Print ISBN

978-4-431-55202-4

Online ISBN

978-4-431-55203-1