© 2019
Regional Competition Law Enforcement in Developing Countries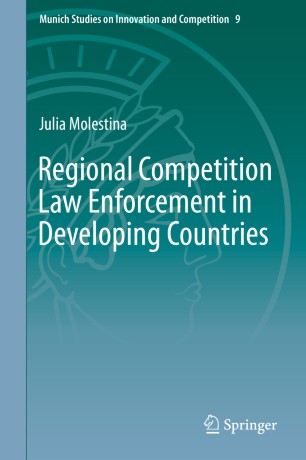 Table of contents
Part I

The Institutional Design of Regional Competition Law Enforcement in the WAEMU, AndeanC and CARICOM

The Optimal Degree of Centralization and Decentralization: Evaluation of the Three Regional Competition Law Systems with Regard to the Enforcement of Competition Law in Developing Countries
About this book
Introduction
The book examines the potential for regional competition law systems as enforcement tools in developing countries, based on a case study of the West African Economic and Monetary Union, the Andean Community and the Caribbean Community.
It analyses the allocation of enforcement competences between the regional/supranational and the national level and formulates detailed guidelines on the optimal degree of centralization or decentralization.
The book addresses all readers that are interested in the enforcement of competition law in developing countries. Moreover, it provides practical insights for public institutions that wish to identify or prevent possible misallocation of competences within regional competition law systems.
Keywords
Developing countries
Regional trade agreements
Competition law enforcement
Institutional framework
Regional competition law
Andean Community
West African Economic and Monetary Union
UEMOA
Caribbean Community
Bibliographic information