© 2020
Allergieprävention
Moderne Strategien der Allergieforschung im Dialog mit der TCM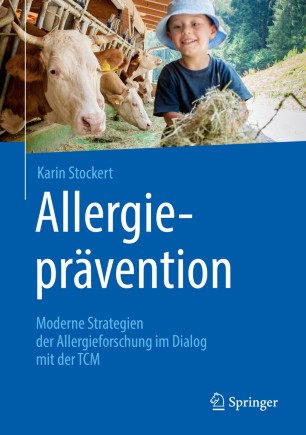 About this book
Introduction
Neues integratives Konzept
In naher Zukunft wird die Hälfte der Menschheit an Allergien leiden. Dieses Buch präsentiert präventive Strategien unter Berücksichtigung aktueller Mikrobiom-Forschung und der bisher noch wenig diskutierten Rolle der Lipidmediatoren. Diese beiden Wunderwerke der Evolution werden durch die weltweit reduzierte Biodiversität und veränderte Lebensbedingungen sowie durch frühe und häufige Gabe von Antibiotika und nichtsteroidalen Antirheumatika (NSAR) dauerhaft gestört.

Rezidivierende "banale" Infekte können bei Prädisponierten die Sensibilisierung erleichtern und bei Allergikern zu akuten Exazerbationen mit Etagenwechsel und Fortschreiten des "allergischen Marsches" führen. Daher spannt die Autorin einen Bogen über 2000 Jahre - zwischen aktuellster Grundlagenforschung des 21. Jahrhunderts und der Weisheit des Klassikers der TCM "Shānghán zábìng lùn". Sie bringt dabei zum Vorschein, dass die heutige Allergieforschung die Stärkung der Selbstheilungsmechanismen ebenso fokussiert, wie es die klassische chinesische Medizin seit jeher tut. Dieses Buch will zu vernetztem Denken motivieren und zu gemeinsamer Forschung anregen, um genau jene Lücke bei der Behandlung des akuten Infekts zu schließen, für die die heutige Allergieforschung so dringend eine wirksame Therapiemöglichkeit sucht.

Inhalt:

Neues aus der Allergologie
Mikrobiom und Epigenetik
Respiratorischer Infekt und Allergie
Lipidmediatoren
TCM
Autorin:

Dr. Karin Stockert, Ärztin für Allgemeinmedizin mit Schwerpunkt TCM, Präsidentin der Österreichischen Gesellschaft für Akupunktur, Boardmember der ICMART(International Council of Medical Acupuncture and Related Techniques), Lehrbeauftragte der Medizinischen Fakultät der Sigmund Freud Universität Wien.
Keywords
Immunologisches Basiswissen
Mikrobiom und Allergie
Lipidmediatoren und Allergie
Heilfieber
Primäre, sekundäre und tertiäre Prävention von Allergien
Immunologische Wirkung von TCM Kräutertherapie und Probiotika
Bibliographic information