© 2018
Semantic Applications
Methodology, Technology, Corporate Use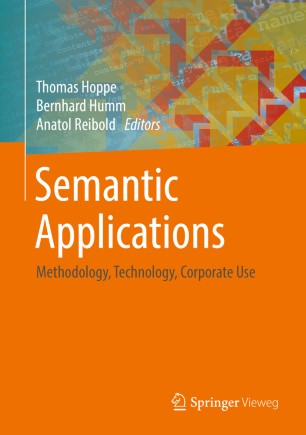 About this book
Introduction
This book describes methodologies for developing semantic applications. Semantic applications are software applications which explicitly or implicitly use the semantics, i.e. the meaning of a domain terminology, in order to improve usability, correctness, and completeness. An example is semantic search, where synonyms and related terms are used for enriching the results of a simple text-based search. Ontologies, thesauri or controlled vocabularies are the centerpiece of semantic applications.
The book includes technological and architectural best practices for corporate use. The authors are experts from industry and academia with experience in developing semantic applications.
The Editors
Thomas Hoppe works as Data Scientist and Knowledge Engineer. He is lecturer at the Computer Science Department of the Hochschule für Technik und Wirtschaft Berlin – University of Applied Sciences, Germany. In 2008 he founded, together with three associates, Ontonym GmbH. Furthermore, in 2014 he founded Datenlabor Berlin.
Bernhard Humm is a professor at the Computer Science Department of Hochschule Darmstadt – University of Applied Sciences, Germany. He coordinates the Ph.D. programme and is the managing director of the institute of applied informatics, Darmstadt (aiDa). He is running several national and international research projects in co-operation with industry and research organizations.
Anatol Reibold studied mathematics and mechanical engineering at the University of Novosibirsk. Currently he works as a supply chain analyst and business mathematician at Raiffeisen Waren-Zentrale Rhein-Main eG. He is also one of the co-founders of OntoPort and their chief data scientist.
Keywords
Semantic Applications
Corporate Semantic Web
Ontologies
Technology
Methodology
Semantic Web
Corporate Use
development of semantic applications
Legal Technologies
Reasoning
Ontology Engineering
Quality Management
Semantic Search
Data Integration and ETL
Metadata
Big Data
Text mining
Natural Language Texts
Smart Factory
Industry 4.0
Bibliographic information