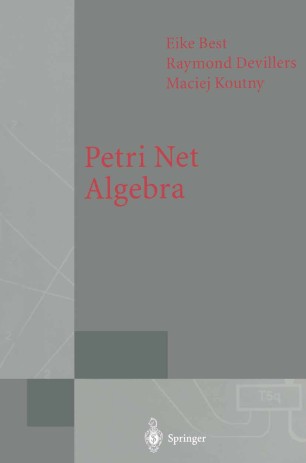 About this book
Introduction
This book presents a step-by-step development of a rigorous framework for the specification and verification of concurrent systems. Petri Net Algebra takes its inspiration and methods from Process Algebra and Petri Nets, two prominent branches of concurrency theory. Added synergistic benefit is derived from combining their respective advantages.
Petri nets are treated as composable objects, and as such they are embedded in a general process algebra. On the other hand, a generic process algebra is given an automatic Petri net semantics so that net-based verification techniques, based on structural invariants and causal partial orders, can be applied to the process algebra. Finally, the theory is applied to a realistic concurrent programming language.
The book contains full proofs, carefully chosen examples and several possible directions for further research. It is self-contained and supposes only acquaintance with basic discrete mathematics. A unique aspect is that the development of the Petri net algebra is handled so as to allow for further application-oriented extensions and modifications.
Keywords
Concurrency
Infinite Operators
Petri Nets
Process algebras
Programming Language Semantics
Recursion
Refinement
SOS Semantics
Structural Invariants
petri net
programming
programming language
proof
semantics
verification
Bibliographic information
Reviews
From the reviews:
"The monograph presents a step-by step development of rigorous framework for the specification and verification of concurrent systems. … The book contains full proofs, carefully chosen examples and several possible directions for further research. The development of the Petri net algebra is handled in such a way that it allows for further application-oriented extensions and modifications. The book is self-contained in the sense that no previous knowledge of Petri nets and process algebras is required." (Ryszard Janicki, Mathematical Reviews, Issue 2003 g)
"This monograph combines two theories of concurrency: process algebras and Petri nets. … The book can serve researches and practitioners working in concurrency theory or in formalization of parallel and distributed systems. It can also be used in an advanced graduate course as a textbook or as a reference. The book contains numerous examples and exercises included in the text immediately following the relevant material. … it is well organized and coherent both in structure and content." (Boleslaw Mikolajczak, SIGACT News, Vol. 33 (2), 2002)