Soziale Vielfalt
Internationale Soziale Arbeit aus interkultureller und dekolonialer Perspektive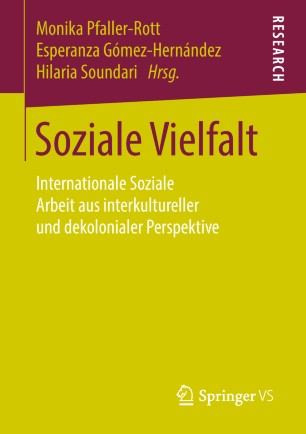 Table of contents
Intercultural and Decolonial Perspectives in India and Latin America

Inclusion and Migration in Europe

Humanistic and Decolonial Perspective on Diversity and Work for Peace

Selected Aspects of Intercultural and Decolonial Social Work: Social Management and Gender Discussions in Colombia

Implications for Social Work with Refugees and Migrants
About this book
Introduction
Dieser Tagungsband fokussiert die internationale dekoloniale Soziale Arbeit mit dem Schwerpunkt sozialer Diversität und greift Themen wie Gender-Diskussion, religiöse Pluralisierung, indigene Soziale Arbeit, Migration und Inklusion aus der Perspektive länderspezifischer Ansätze auf. Die untersuchten Länder weisen in der migrationsspezifischen Sozialen Arbeit langjährige Erfahrungen in der Binnenmigration aufgrund von Gewalterfahrungen (Kolumbien) oder wirtschaftlichen Gründen (Indien) auf, leben im politischen Transformationsprozess (Kuba) oder müssen aufgrund hoher Emigration (Indien) länderspezifische Lösungen finden. Die interdisziplinäre Sichtweise ergibt sich durch eine sozialarbeitswissenschaftliche, pädagogische, philosophische und politische Herangehensweise.
Der Inhalt
Interkulturelle und dekoloniale Perspektiven.- Inklusion und Migration in Europa, Indien, Lateinamerika.- Humanistische und dekoloniale Perspektiven auf Vielfalt und Friedensarbeit.- Ausgewählte Aspekte interkultureller und dekolonialer Sozialarbeit.- Implikationen für die Soziale Arbeit mit Flüchtlingen und Migranten.
Die Zielgruppen
• Lehrende und Studierende der internationalen Sozialen Arbeit
• Praktikerinnen und Praktiker aus den Bereichen Flüchtlingshilfe und Friedensarbeit
Die Herausgeberinnen
Dr. phil. Monika Pfaller-Rott ist an der Katholischen Universität Eichstätt-Ingolstadt, Fakultät für Soziale Arbeit tätig, Prof. Dr. Esperanza Gómez-Hernández an der Universidad de Anitoquia in Medellin, Kolumbien und Prof. Dr. Hilaria Soundari an der Universität The Gandhigram Rural Institute in Indien.
Keywords
Internationale Soziale Arbeit in Europa, Lateinamerika,Indien
Multikulturalität
Transkulturalität
Interkulturalität
Gender
Friedenspädagogik
Flucht und Migration
Diversität
Humanität
Kolonialismus
Social Diversity
International Social Work in Europe, Latin America, India
Flight and Migration
Multiculturalism .
Interculturalism
Bibliographic information
DOI

https://doi.org/10.1007/978-3-658-21090-8

Copyright Information

Springer Fachmedien Wiesbaden GmbH 2018

Publisher Name

Springer VS, Wiesbaden

eBook Packages

Social Science and Law (German Language)

Print ISBN

978-3-658-21089-2

Online ISBN

978-3-658-21090-8