Impact of Survivin Acetylation on its Biological Function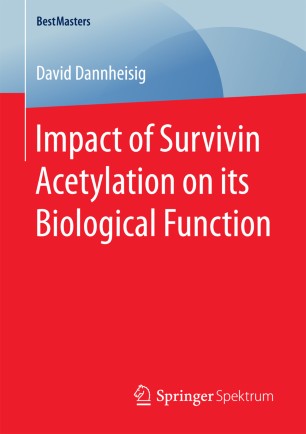 About this book
Introduction
In his research, David Dannheisig investigates the influence of lysine129 acetylation on the biological function of survivin including alteration of nucleocytoplasmic shuttling as well as dimerization behavior. Since survivin participates in two major hallmarks of oncogenesis, namely cell death inhibition and chromosomal segregation during the cell cycle, it reflects a valuable target in cancer therapy and research. The author establishes proximity-dependent, fluorescence-microscopic methods to quantify the interaction of survivin with the export receptor Crm1 as well as the homodimerization itself. In the future, those systems can be used to examine the feasible effect of chemical modulators which are targeting these interactions in a cellular background. The outcome achieved is an essential step towards the enhancement of potential cancer therapies.
Contents
Apoptosis – The Programmed Suicide

Cancer – The Enemy Inside

Nucleocytoplasmic Transport– Cellular Navigation

Biological Function of Survivin

Protein modification – Make-Up for Proteins

Cell cycle – Virchow's Heritage
Target Groups
Lecturers, students and researchers in the biological-medical sector

Practitioners in the fields of molecular biology, cell biology, fluorescence microscopy, medical biology, protein interaction studies
The Author
David Dannheisig currently is a student of the International Graduate School in Molecular Medicine (IGradU) pursuing his PhD (Dr. rer. nat) degree at the Institute of Biochemistry and Molecular Biology (iBMB) at Ulm University, Germany.
Keywords
FRET
Survivin Acetylierung
Proteininteraktionsstudien
Proximity Ligation Assay (PLA)
Zellbiologie
Cancer
Cell Biology
Protein Interaction Studies
Survivin Acetylation
Bibliographic information