10. Tagung Diesel- und Benzindirekteinspritzung 2016
Inklusive Gaseinblasung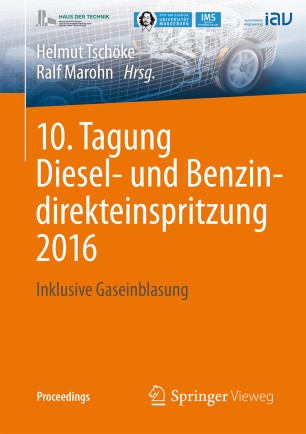 About these proceedings
Introduction
Ein stetig steigender Fundus an Informationen ist heute notwendig, um die immer komplexer werdende Technik heutiger Kraftfahrzeuge zu verstehen. In immer schnelleren Zyklen verbreitet sich aktuelles Wissen aus Konferenzen, Tagungen und Symposien in die Fachwelt. Den raschen Zugriff auf diese Informationen bietet diese Reihe Proceedings. Sie stellt das spezielle Wissen in der Systematik dieser Konferenzen und Tagungen zusammen als Buch in Springer.com wie auch elektronisch in SpringerLink und Springer Professional bereit.

Der Inhalt
Dieselmotoren:
Einspritzsystemeigenschaften für zukünftige Nfz-Emissions-Anforderungen Reduction of Diesel Engine Emissions Performance Further Steps Towards a Fast and Flexible Fuel Injection - Injector Closed-Loop Control Using the Switch Technology – Neues Piezo-Einspritzsystem für höhere Dieseleffizienz – Brennverfahrensauslegung an HD-Motoren - Mikroskopische Analyse der Zerstäubung von Dieselstrahlen - Effect of Injection Rate Shaping Over Diesel Spray Development in Non-Reacting Evaporative Conditions - Analysis and Correction of the Geometrical and Thermal Influence on Injection Rate Measurements - From Nozzle Design to Combustion - Anwendungsorientierte Modelle zur Berechnung von Diesel-Sprays – Advanced Product Validation Methodology for Long Life Reliability of MD/HD Common Rail System – New Methodology for Early Qualification of Injectors under Real Engine Conditions

Ottomotoren:
Direkt-Einspritz-Systeme für Ottomotoren zur Erfüllung der Real Gesetzgebung – A Comparative Study of the Fuel Pressure and Temperature Effects on the GDI Multi Hole Spray - Untersuchung zum Einfluss des Spray Targetings von Mehrloch-Injektoren für Benzin-DI - Late-Fuel Analysis Near Nozzle Outlet of Fuel Injector During Valve Closing – Direkte Benzin-Wasser-Einspritzung: CO2-Potentiale und technische Anforderungen - Sprayvermessung einer Benzin-Wasser Emulsion – Untersuchung der Partikelemissionen für unterschiedliche Einspritzstrategien - Untersuchungen zum Einfluss von Ethanolzumischung auf die Rußbildung

Gasmotoren:

Erdgas-Diesel Dual-Direct-Injection - Alternatives Brennverfahren zur signifikanten CO2–Reduzierung – Neuartige Gasdiagnostiktools im CNG-Motorentwicklungsprozess – Einfluss der Diesel-Piloteinspritzung auf die Verbrennung in Diesel-Gas Dual Fuel Motoren

Die Zielgruppen
Fahrzeug- und Motoreningenieure sowie Lehrende und Studierende, die aktuelles Fachwissen zur Direkteinspritztechnik für Diesel- und Ottomotoren benötigen und suchen.
Der Veranstalter
Das Haus der Technik (HDT), 1927 in Essen gegründet, ist heute einer der führenden deutschen Anbieter von Seminaren, Lehrgängen, Tagungen und Kongressen für Fach- und Führungskräfte. Traditionell versteht sich das HDT als Forum für den Austausch von Wissen und Erfahrungen mit einem sehr breit gefächerten Bildungsangebot in Technik und Wirtschaft.
Keywords
Einspritzsystemeigenschaften
Regelung des Dieselinjektors
Zerstäubung
Benzin-Wasser-Einspritzung
Mehrloch-Injektoren
Bibliographic information
DOI

https://doi.org/10.1007/978-3-658-15327-4

Copyright Information

Springer Fachmedien Wiesbaden GmbH 2017

Publisher Name

Springer Vieweg, Wiesbaden

eBook Packages

Computer Science and Engineering (German Language)

Print ISBN

978-3-658-15326-7

Online ISBN

978-3-658-15327-4

Series Print ISSN

2198-7432

Series Online ISSN

2198-7440
Industry Sectors