Verunsicherte Gesellschaft
Prekarisierung auf dem Weg in das Zentrum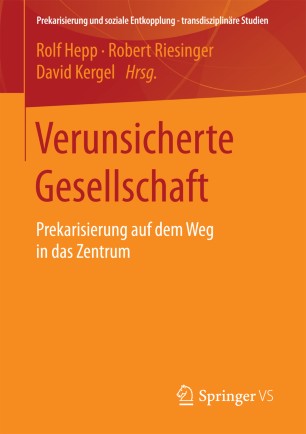 Table of contents
About this book
Introduction
Die Beiträge des Bandes analysieren unter internationaler Perspektive transdisziplinär aktuelle Prekarisierungstendenzen in verschiedenen Ländern. Sie beziehen sich auf diverse gesellschaftliche Teilbereiche. Die AutorInnen zeigen auf, wie sich Prekarität jeweils konkret in unterschiedliche soziale Strukturen einschreibt.
Der Inhalt
Das Drama des Prekären.- Social Precarity and Labor Markets Reforms in Europe.- Precarization and Control.- Precarious Histories.- Prekarisierung erfahren.- Bourdieu, Wegwerfleben, Geistesgegenwart und Sozialarbeit.- Prekäre Übergänge.- Precarious Work and Union Strategies.- Bildungssoziologie und Prekaritätsforschung.- Prekärsein in der Symptomgesellschaft.- Precariat, or the New Proletariat?.- Prekarisierung und Prekarität.- Der "Arbeitskraftunternehmer".- Change of the Economy.- Wege der Prekarisierung: Verschiebungen, Verdichtungen.- Wiedereingliederung von Häftlingen als Mythos und Zeremonie.


Die Zielgruppen
SoziologInnen und Sozial(arbeits)wissenschaftlerInnen
WirtschaftswissenschaftlerInnen
Kultur- und GeisteswissenschaftlerInnen

Die Herausgeber
Rolf Hepp lehrt am Institut für Soziologie der FU Berlin und ist Koordinator des S.U.P.I.-Forschungsnetzwerks.
Robert Riesinger war Professor am Studiengang Soziale Arbeit in Graz und ist derzeit als freier Wissenschaftler und Autor tätig.
David Kergel ist wissenschaftlicher Mitarbeiter an der Carl von Ossietzky Universität Oldenburg tätig.

Keywords
Prekarisierung
Soziale Ungleichheit
Arbeitssoziologie
Wirtschaftssoziologie
Arbeitsmarktforschung
Bildung
Prekaritätsforschung
Gesellschfatsanalyse
Bibliographic information
DOI

https://doi.org/10.1007/978-3-658-12902-6

Copyright Information

Springer Fachmedien Wiesbaden 2016

Publisher Name

Springer VS, Wiesbaden

eBook Packages

Social Science and Law (German Language)

Print ISBN

978-3-658-12901-9

Online ISBN

978-3-658-12902-6

Series Print ISSN

2509-3266

Series Online ISSN

2509-3274