© 2016
Analysis of Reaction and Transport Processes in Zinc Air Batteries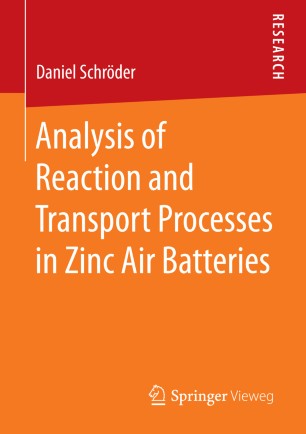 Table of contents
About this book
Introduction
This book contains a novel combination of experimental and model-based investigations, elucidating the complex processes inside zinc air batteries. The work presented helps to answer which battery composition and which air-composition should be adjusted to maintain stable and efficient charge/discharge cycling. In detail, electrochemical investigations and X-ray transmission tomography are applied on button cell zinc air batteries and in-house set-ups. Moreover, model-based investigations of the battery anode and the impact of relative humidity, active operation, carbon dioxide and oxygen on zinc air battery operation are presented. The techniques used in this work complement each other well and yield an unprecedented understanding of zinc air batteries. The methods applied are adaptable and can potentially be applied to gain further understanding of other metal air batteries.
Contents
Introduction on Zinc Air Batteries

Characterizing Reaction and Transport Processes

Identifying Factors for Long-Term Stable Operation
Target Groups
Teachers and students in the field of electrochemistry, energy technology and process engineering

Engineers, natural scientists
The Author
Daniel Schröder works currently as research assistant at the Justus-Liebig-Universität Gießen, Physikalisch-Chemisches Institut, AG Janek and is group leader of the metal air battery research group, analyzing Li-, Na- and Zn-air batteries.

Keywords
Zinc Air Battery
Modeling and Simulation
X-ray Tomography
Imaging
Impedance Spectroscopy
Discharge Performance Analysis
Bibliographic information