© 2016
Scarce Natural Resources, Recycling, Innovation and Growth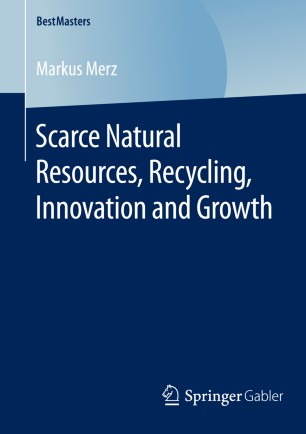 About this book
Introduction
This thesis uses neoclassical growth models to evaluate what effect the limited availability of nonrenewable resources has on the economy's (world's) growth potential. Markus Merz concludes that recycling may serve as a mid-term solution to continued growth, but technological progress is needed in the long-run. The theoretical analysis starts with the well-known Dasgupta-Heal model and considers the effect of recycling and technological progress on the resource constraints; resource-augmenting and backstop technology are analyzed. After a thorough analysis of the models it is concluded that the ultimate solution to long-term economic growth is a backstop technology.
Contents
• An Introduction to Economic Growth Theory
• The Dasgupta-Heal Model
• Recycling as a Source of Regeneration
• Technological Progress
Target Groups
• Teachers and students of economics with a focus on economic growth theory and natural resource economics
• Executives and consultants in the field of natural resource, energy politics and in energy companies
About The Author
Markus Merz is a research fellow at the Department of Banking, University of Tuebingen. His research interests are access to finance, finance and growth and microeconomics of banking.
Keywords
Exhaustible natural resources
Conservation of nonrenewable resources
Material balance constraint
Technological Progress
Backstop Technology
Bibliographic information