© 2016
Friendly Business
International Views on Social Supply, Self-Supply and Small-Scale Drug Dealing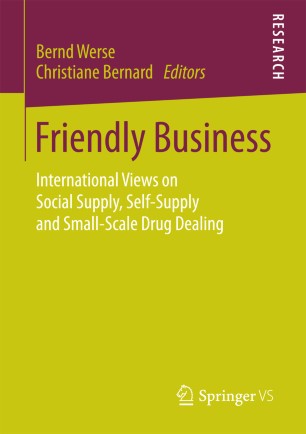 About this book
Introduction
Based on social research conducted in different countries in Europe, the U.S. and Australia, this anthology is the first to provide detailed insights into small-scale drug distribution. A main focus is the phenomenon of 'social supply', i.e. buying illicit drugs from friends, which covers a substantial part of the retail market. For cannabis users, cultivating their own plants is another important source. This volume deals with different social aspects of these non-profit-oriented forms of drug distribution, as well as profit-oriented small-scale dealing. While the illicit drug trade is commonly referred to as a world dominated by ruthless criminals, this book draws a different picture.
Contents
Drug sharing and social supply

Careers of drug users and small-scale dealers: Drifting in and out of dealing

Cannabis cultivation as a way of self-supply

Comparative research on small-scale trade and cannabis cultivation in different countries

Networks of drug dealers and traffickers

Target Groups
Researchers, lecturers and students of criminology and social sciences

Law enforcement, social work, drug policy
The Editors
Dr. phil. Bernd Werse works for different social research projects on the use of recreational drugs at the Centre for Drug Research, Goethe University, Frankfurt.
Dr. phil. Christiane Bernard works at the Coordination Office "Women and Addiction" of North Rhine-Westphalia. She has extensive experience as a researcher in social drug research.
Keywords
Cannabis
Drogen - drugs
Drogenhandel – drug trade
Drogenkriminalität – drug-related crime
Qualitative Sozialforschung – qualitative social research
Bibliographic information