© 2014
Design Concepts for a Virtualizable Embedded MPSoC Architecture
Enabling Virtualization in Embedded Multi-Processor Systems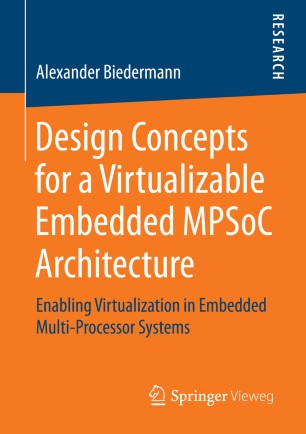 About this book
Introduction
Alexander Biedermann presents a generic hardware-based virtualization approach, which may transform an array of any off-the-shelf embedded processors into a multi-processor system with high execution dynamism. Based on this approach, he highlights concepts for the design of energy aware systems, self-healing systems as well as parallelized systems. For the latter, the novel so-called Agile Processing scheme is introduced by the author, which enables a seamless transition between sequential and parallel execution schemes. The design of such virtualizable systems is further aided by introduction of a dedicated design framework, which integrates into existing, commercial workflows. As a result, this book provides comprehensive design flows for the design of embedded multi-processor systems-on-chip.
Contents
Virtualization for Embedded Processors
Generic Virtualization Layer for Multi-Processor Systems-on-Chip
Design Flow for Self-Healing Systems
Design Flow for Agile Processing Systems
Target Groups
Scientists and students in the field of embedded systems, especially reconfigurable systems
Engineers in the field of embedded HW/SW systems, such as in the automotive domain
About the Author
Alexander Biedermann completed his doctoral thesis at the Integrated Circuits and Systems Lab, Technische Universität Darmstadt, and at the Center for Advanced Security Research Darmstadt (CASED) under supervision of Prof. Dr.-Ing. Sorin A. Huss.
Keywords
Dynamic Reconfiguration
FPGA
Multi-Processor System-on-Chip
Virtualization
embedded systems
Bibliographic information