© 2017
How Are Chinese Only Children Growing
A Bioecological Systems Perspective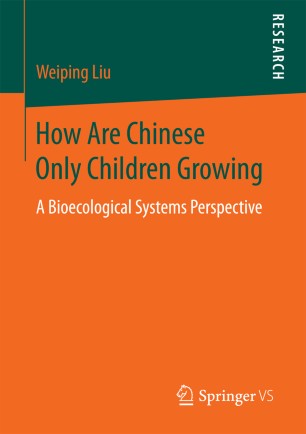 About this book
Introduction
Weiping Liu contends that the impacts of learning environments on Chinese only children must be studied from a bioecological systems perspective by considering the direct and joint effects of learning environments and personality within the macro-environments of culture, public policy etc. Samples were chosen randomly from the 1980s and 1990s Chinese only children (N=2105) ranging from junior high, senior high and college students in east, middle and west China. With data analyses such as exploratory factor analysis, hierarchical multiple regression analysis, MANOVA and ANOVA, hypotheses formulated on these research purposes were tested to be true, especially, in terms of desirable learning outcomes. The author also provided practical and theoretical discussions.
Contents
Family Environment

Peer Relations

Teacher Interpersonal Behaviour

Cooperative Learning Outcomes and Cooperative Learning Environment

Target Groups
Researchers and students in the fields of social sciences, psychology, and education with a focus on learning environments and behaviour

Practitioners in education, policy-makers in education and society
The Author
Dr. Weiping Liu is a fulltime lecturer in the Key Laboratory of Modern Teaching Technology, Ministry of Education and at the Center for Teacher Professional Ability Development, Shaanxi Normal University, Xi'an, P. R. China.
Keywords
Learning Environments
Personality
Family
Peers
Teacher
Bibliographic information