Comics - Bilder, Stories und Sequenzen in religiösen Deutungskulturen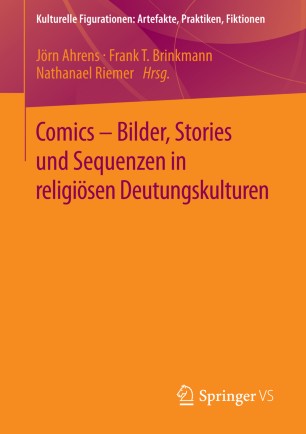 Table of contents
About this book
Introduction
Comics sind fester Bestandteil spätmoderner Text- und Zeichenwelten. Sie haben der Gegenwartskultur nicht nur Storys und Sagenkränze beschert, sondern auch Mythen, Ikonen und Helden. Dass die skizzierten Protagonisten bisweilen auch als Antihelden konstruiert werden – und sich die Erzählungen insofern auch als Antimythen aufstellen – bekräftigt im Grunde die These von einer comic-literarischen Heldenreise, auf deren Sinn und Funktion sowohl die Religions- als auch die Medienwissenschaften aufmerksam gemacht haben. Der Comic als Medium hat Rezeptionsgewohnheiten verändert und Reflexionsstrategien neu gestaltet. Populäre Erzählmuster sind von der Trivialität und Banalität der Strips und Cartoons ebenso beeinflusst worden wie die intellektuellen Diskurse von den metatextuellen Realitätskonstruktionen der Graphic Novel.​
Der Inhalt
(Spätmoderne Versuche zu) Messiasmetapher, Open-Source-Religion und Neomythos • New Concepts of Modern Mutants, Mortal Heroes and Mighty Gods • Islamische Kulturen, Helden, Codes und Comics • Utopien, Heterotopien, Dystopien
Die Zielgruppen
KulturwissenschaftlerInnen • KultursoziologInnen • ReligionswissenschaftlerInnen • TheologInnen • MedienwissenschaftlerInnen
Die Herausgeber
Dr. Jörn Ahrens ist Professor für Kultursoziologie am Institut für Soziologie der Universität Gießen.
Dr. Frank Thomas Brinkmann ist Professor für Praktische Theologie am Institut für Evangelische Theologie der Universität Gießen.
Dr. Nathanael Riemer ist Juniorprofessor für Jüdische Studien mit dem Schwerpunkt Interreligiöse Begegnungen am Institut für Jüdische Studien und Religionswissenschaft der Universität Potsdam.
Keywords
Massenmedien
Mediensprünge
Missionarische Bewegungen
Populärkultur
Religion im Alltag
Ästhetische Selbstverhandlung
Bibliographic information
DOI

https://doi.org/10.1007/978-3-658-01428-5

Copyright Information

Springer Fachmedien Wiesbaden 2015

Publisher Name

Springer VS, Wiesbaden

eBook Packages

Humanities, Social Science (German Language)

Print ISBN

978-3-658-01427-8

Online ISBN

978-3-658-01428-5