© 2002
Noncontact Atomic Force Microscopy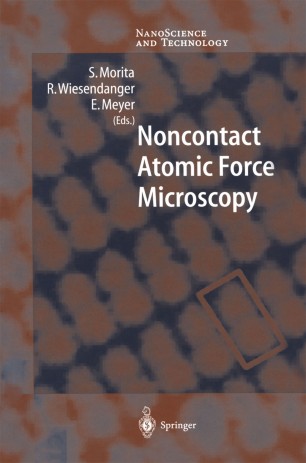 Table of contents
About this book
Introduction
Since 1995, the noncontact atomic force microscope (NC-AFM) has achieved remarkable progress. Based on nanomechanical methods, the NC-AFM detects the weak attractive force between the tip of a cantilever and a sample surface. This method has the following characteristics: it has true atomic resolution; it can measure atomic force interactions, i.e. it can be used in so-called atomic force spectroscopy (AFS); it can also be used to study insulators; and it can measure mechanical responses such as elastic deformation. This is the first book that deals with all of the emerging NC-AFM issues.
Keywords
AFM
Bias
Helium-Atom-Streuung
Noncontact atomic
True atomic resolution
deformation
experiment
measurement
microscopy
oxides
semiconductor
semiconductors
spectroscopy
surface
temperature
Bibliographic information
Reviews
"This book gives a comprehensive overview of the state-of-the-art of this dynamic force microscopy technique in 20 chapters, each written by experts in the field. It covers the theoretical basis, as well as applications to semiconducting surfaces, ionic crystals, metal oxides, and organic molecular systems including thin films, polymers, and nucleic acids . . . There are unsolved questions about the mechanisms responsible for atomic resolution but, as this well-written book displays, there has been tremendous progress in basic understanding of the technique and fascinating new applications continue to arise . . . With an increased understanding of NC-AFM, as demonstrated in this book, we are certain to see further progress in the near future."
–Materials Today