© 2012
Chips 2020
A Guide to the Future of Nanoelectronics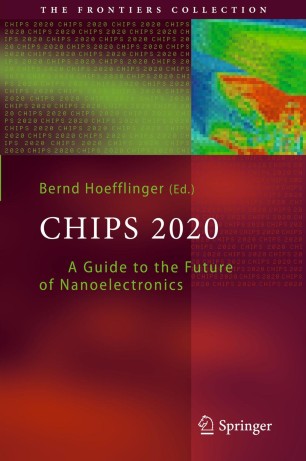 Table of contents
About this book
Introduction
The chips in present-day cell phones already contain billions of sub-100-nanometer transistors. By 2020, however, we will see systems-on-chips with trillions of 10-nanometer transistors. But this will be the end of the miniaturization, because yet smaller transistors, containing just a few control atoms, are subject to statistical fluctuations and thus no longer useful. We also need to worry about a potential energy crisis, because in less than five years from now, with current chip technology, the internet alone would consume the total global electrical power!
This book presents a new, sustainable roadmap towards ultra-low-energy (femto-Joule), high-performance electronics. The focus is on the energy-efficiency of the various chip functions: sensing, processing, and communication, in a top-down spirit involving new architectures such as silicon brains, ultra-low-voltage circuits, energy harvesting, and 3D silicon technologies. Recognized world leaders from industry and from the research community share their views of this nanoelectronics future. They discuss, among other things, ubiquitous communication based on mobile companions, health and care supported by autonomous implants and by personal carebots, safe and efficient mobility assisted by co-pilots equipped with intelligent micro-electromechanical systems, and internet-based education for a billion people from kindergarden to retirement. This book should help and interest all those who will have to make decisions associated with future electronics: students, graduates, educators, and researchers, as well as managers, investors, and policy makers.
Introduction: Towards Sustainable 2020 Nanoelectronics.- From Microelectronics to Nanoelectronics.- The Future of Eight Chip Technologies.- Analog–Digital Interfaces.- Interconnects and Transceivers.- Requirements and Markets for Nanoelectronics.- ITRS: The International Technology Roadmap for Semiconductors.- Nanolithography.- Power-Efficient Design Challenges.- Superprocessors and Supercomputers.- Towards Terabit Memories.- 3D Integration for Wireless Multimedia.- The Next-Generation Mobile User-Experience.- MEMS (Micro-Electro-Mechanical Systems) for Automotive and Consumer.- Vision Sensors and Cameras.- Digital Neural Networks for New Media.- Retinal Implants for Blind Patients.- Silicon Brains.- Energy Harvesting and Chip Autonomy.- The Energy Crisis.- The Extreme-Technology Industry.- Education and Research for the Age of Nanoelectronics.- 2020 World with Chips.
Keywords
3D Integration
Energy Harvesting
Energy Roadmap
MEMS
Moore's Law
Nanolithography
Roadmap of Nanoelectronics
Silicon Brains
Systems-on-chip
Bibliographic information
Reviews
From the reviews:
"The book's chapters provides an almost definitive list of hot topics and includes chapters on logic and computing, analog-digital interfaces, interconnects and transceivers … power efficient design and energy harvesting and chip autonomy. … It is suitable both for the student, researcher or recent graduate that wants to understand where the challenges lie in chips, and for experienced managers, investors and policy makers, who may have been looking at the trees for so long that they will now benefit from this look at the forest." (Peter Clarke, EETimes, February, 2012)