© 2012
Multilingual Information Retrieval
From Research To Practice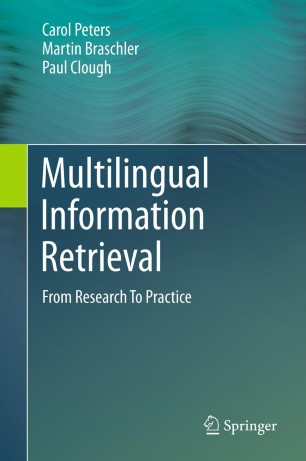 About this book
Introduction
We are living in a multilingual world and the diversity in languages which are used to interact with information access systems has generated a wide variety of challenges to be addressed by computer and information scientists. The growing amount of non-English information accessible globally and the increased worldwide exposure of enterprises also necessitates the adaptation of Information Retrieval (IR) methods to new, multilingual settings.
Peters, Braschler and Clough present a comprehensive description of the technologies involved in designing and developing systems for Multilingual Information Retrieval (MLIR). They provide readers with broad coverage of the various issues involved in creating systems to make accessible digitally stored materials regardless of the language(s) they are written in. Details on Cross-Language Information Retrieval (CLIR) are also covered that help readers to understand how to develop retrieval systems that cross language boundaries. Their work is divided into six chapters and accompanies the reader step-by-step through the various stages involved in building, using and evaluating MLIR systems. The book concludes with some examples of recent applications that utilise MLIR technologies. Some of the techniques described have recently started to appear in commercial search systems, while others have the potential to be part of future incarnations.
The book is intended for graduate students, scholars, and practitioners with a basic understanding of classical text retrieval methods. It offers guidelines and information on all aspects that need to be taken into consideration when building MLIR systems, while avoiding too many 'hands-on details' that could rapidly become obsolete. Thus it bridges the gap between the material covered by most of the classical IR textbooks and the novel requirements related to the acquisition and dissemination of information in whatever language it is stored.
Keywords
Cross-Language Information Retrieval
Digital Libraries
HCI
Human-Computer Interaction
Multilingual Information Retrieval
NLP
Natural Language Processing
Bibliographic information
Reviews
From the reviews:
"In this book the Reader may find a lot of information from experience of running such large evaluation campaigns. … The book contents comprise six chapters that follow a conference paper structure. … I recommend it to academia as a resource providing background knowledge in multilingual information retrieval." (Jolanta Mizera-Pietraszko, Informer, November, 2012)
"A valuable and  comprehensive handbook. The book is containing pointers to many useful resources"
Prasenjit Majumder, DAIICT, India