© 2010
Verification and Validation in Systems Engineering
Assessing UML/SysML Design Models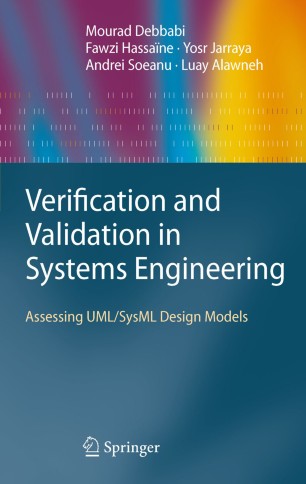 About this book
Introduction
Verification and validation represents an important process used for the quality assessment of engineered systems and their compliance with the requirements established at the beginning of or during the development cycle.
Debbabi and his coauthors investigate methodologies and techniques that can be employed for the automatic verification and validation of systems engineering design models expressed in standardized modeling languages. Their presentation includes a bird's eye view of the most prominent modeling languages for software and systems engineering, namely the Unified Modeling Language (UML) and the more recent Systems Modeling Language (SysML). Moreover, it elaborates on a number of quantitative and qualitative techniques that synergistically combine automatic verification techniques, program analysis, and software engineering quantitative methods applicable to design models described in these modeling languages. Each of these techniques is additionally explained using a case study highlighting the process, its results, and resulting changes in the system design.
Researchers in academia and industry as well as students specializing in software and systems engineering will find here an overview of state-of-the-art validation and verification techniques. Due to their close association with the UML standard, the presented approaches are also applicable to industrial software development.
Keywords
Model Checking
Performance
Performance Analysis
Program Analysis
Software Engineering
Software Metrics
Software Validation
Software Verification
SysML
System
Text
UML
algorithms
Bibliographic information
Reviews
From the reviews:
"The five authors of this book tackle a very difficult subject, and must be commended for doing so. The result is a welcome addition to the body of professional literature. … It is a highly technical … book on one of the most critical subjects that we have, as professionals. … The book is exceedingly well illustrated. … a professional involved in systems engineering, and particularly in systems quality, verification, systems verification, or other related activities, would find this book useful." (Mordechai Ben-Menachem, ACM Computing Reviews, May, 2011)