Black Hole Astrophysics
The Engine Paradigm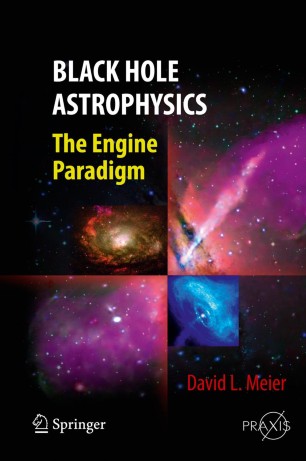 Table of contents
About this book
Introduction
As a result of significant research over the past 20 years, black holes are now linked to some of the most spectacular and exciting phenomena in the Universe, ranging in size from those that have the same mass as stars to the super-massive objects that lie at the heart of most galaxies, including our own Milky Way. This book first introduces the properties of simple isolated holes, then adds in complications like rotation, accretion, radiation, and magnetic fields, finally arriving at a basic understanding of how these immense engines work.
Black Hole Astrophysics
• reviews our current knowledge of cosmic black holes and how they generate the most powerful observed pheonomena in the Universe;
• highlights the latest, most up-to-date theories and discoveries in this very active area of astrophysical research;
• demonstrates why we believe that black holes are responsible for important phenomena such as quasars, microquasars and gammaray bursts;
• explains to the reader the nature of the violent and spectacular outfl ows (winds and jets) generated by black hole accretion.
Keywords
Accretion Disks
Active Galactic Nuclei (AGN)
Astrophysical Black Holes
Astrophysical Jets
Blandford-Znajek process
Physics of Microquasars
Physics of gamma-ray burts
Bibliographic information
DOI

https://doi.org/10.1007/978-3-642-01936-4

Copyright Information

Springer-Verlag Berlin Heidelberg 2012

Publisher Name

Springer, Berlin, Heidelberg

eBook Packages

Physics and Astronomy Physics and Astronomy (R0)

Print ISBN

978-3-642-01935-7

Online ISBN

978-3-642-01936-4