© 2010
Business Process Technology
A Unified View on Business Processes, Workflows and Enterprise Applications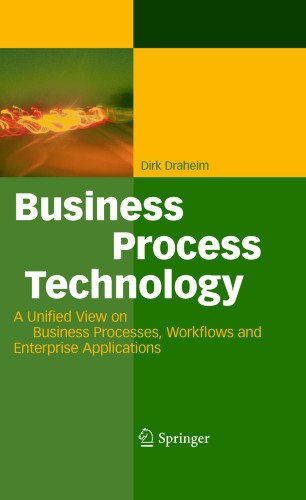 About this book
Introduction
Currently, we see a lot of tools and techniques for specifying and implementing business processes. The problem is that there are still gaps and tensions between the different disciplines needed to improve business process execution and improvement in enterprises. Business process modeling, workflow execution and application programming are examples of disciplines that are hosted by different communities and emerged separately from each other. In particular, at the system analysis level concepts are not yet fully elaborated.
Therefore, practitioners are faced again and again with similar questions in concrete business process projects: which decomposition mechanism to use? Who to find the correct granularity for business process activities? Which implementing technology is the optimal one in a given situation?
This book approaches a systematization of the field. The method of the book is explicitly not a comparative analysis of existing tools and techniques – albeit the review of existing tools is a most important source for the considerations in the book. Rather, the book tries to provide a landscape of rationales and concepts in business processes with a discussion of alternatives.
Keywords
Enterprise Applications
Host
Information Technology (IT)
business process
business process management
computer
development
human-computer interaction (HCI)
modeling
optimization
process optimization
programming
semantics
service-oriented arch
Bibliographic information
Reviews
From the reviews:
"Draheim's book serves to help unify these fields by clarifying the differences and the similarities in the concepts, relating the technologies to computer science principles, and envisioning a unified future for the use of business process technology. … The book has been carefully written and effectively organized. It is technically precise, without getting too deep in the weeds to distract readers from the concepts or examples being presented. Many helpful diagrams are included, and 363 references are given." (M. G. Murphy, ACM Computing Reviews, August, 2011)