© 2009
Metaheuristics in the Service Industry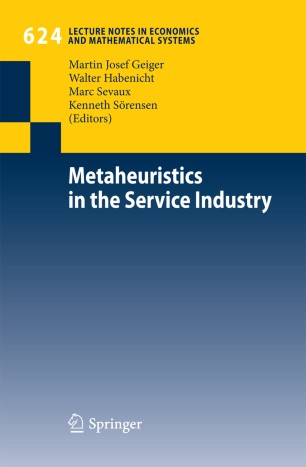 Table of contents
About this book
Introduction
Most developed economics show the tendency of an increasing importance of modern services such as tourism, logistical services, finance, and others. In many cases, complex optimization problems can be found in this context, and the successful operation of modern services often depends on the ability to solve the obtained optimization models.
Metaheuristics on the other hand present an interesting problem-resolution paradigm that has attracted considerable interest in past years.
The book combines a set of selected and peer-reviewed articles, presenting novel results of metaheuristics for modern services. In particular, applications in the area of transportation and logistics are considered, while other areas include production and financial services. Novel methodological approaches as well as improved results are obtained, resulting in a considerable contribution to the state-of-the-art of research in metaheuristics.
Keywords
Logistics
Metaheuristics
Production
Scheduling
Service Industry
algorithms
calculus
evolutionary algorithm
metaheuristic
optimization
Bibliographic information